March 10, 2023 at 6:31 p.m.
Reaching out to their community
Mirons inducted into Minnesota Livestock Breeders' Association Hall of Fame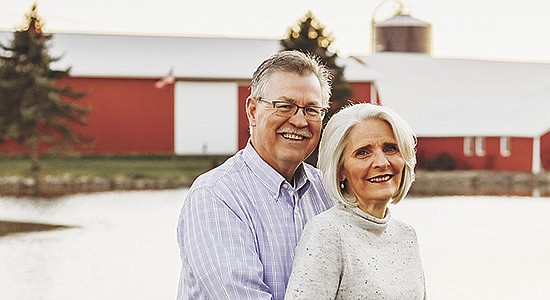 ---
HUGO, Minn. – Fran and Mary Ann Miron have opened their farm to others.
The couple has hosted international delegations, welcomed U.S. and state legislators, opened their space for the filming of an episode of "The Bachelorette," welcomed school children four to six times a year, and have served in city and county government positions.
[[In-content Ad]]

"We've taken upon ourselves the need to reach out to the non-ag public to make sure that they know our story and that they understand what we do," Fran Miron said. "And, we have always felt the support of the community."
The Mirons, who have a 200-cow dairy farm in Hugo, were inducted into the Minnesota Livestock Breeders' Association Hall of Fame March 9 at the association's annual meeting in St. Paul.
Their nomination came from the mayor of Scandia, Christine Maefsky, who, with her husband, was also an inductee in 2016.
The scope of the Mirons' involvement has ranged from international influence all the way to their local communities.
Internationally, the Mirons have hosted delegations from Ukraine, Norway, Sweden, Australia, Switzerland, Canada and France.
The Mirons have also opened their farm to members of the U.S. Congress and state legislators. Miron said he believes these visits have been beneficial for agriculture.
"I think all of that … was important over the years as well to make sure that we had good farm policy from both the federal and state level," he said.
When former president of the University of Minnesota, Eric Kaler, was beginning his presidency, the Mirons hosted a large delegation from the U of M. Miron, who is an alumnus, said the visit was important to maintaining a positive direction for the university.
"It helped acclimate (Kaler) to the importance of the college of agriculture and the need to maintain that presence," he said.
Miron has served in local government for over 30 years. He was on the city council of Hugo for 20 years, part of which he served as mayor. Currently, he is a Washington County commissioner.
One of the issues Miron navigated while on the city council was land use disputes. He worked to balance the right to farm, rural culture, urbanization and the right to build and develop.
"As a farmer, I'm a strong advocate for land rights," he said. "But I also appreciate our rural lifestyle and rural character, and we're in a very urbanizing area. … When you look at land rights, that's not only right-to-farm initiatives, but it's also a right to develop and to do other things."
For the Mirons, one of their biggest accomplishments is helping create a community with potential for success for all individuals.
"One of the things that Mary Ann and I are really proud of is the fact that our kids didn't have to leave the community for opportunities," Miron said. "That's something that we don't see in all rural communities."
The Mirons' six children live within 10 minutes of their dairy farm, and two of their sons, Paul and Andrew, are in charge of the day-to-day operations on the farm. Although, Miron is still active on the farm.
On the farm, the Mirons have made it part of their farm's identity to welcome visitors and to share what goes on every day.
The Mirons hosted numerous events for the public including breakfasts on the farm, lunches on the farm and corn feeds with their two daughters' Princess Kay butter sculptures. Linda Christensen, who sculpted the iconic Princess Kay butter sculptures for 50 years, visited the Miron farm as her first visit to a Minnesota dairy farm.
The Mirons have been involved in many agriculture organizations including FFA, the U of M, Dairy Herd Improvement Association, Washington County American Dairy Association, Washington County Farm Service Agency and the Minnesota Farm Bureau at the local and state levels.
The Mirons are humble when it comes to their induction into the hall of fame.
"It's an honor to be among them," Miron said. "I really just have a sense that we're kind of in a shadow of some significant greatness."
Miron was pleased that the Minnesota Livestock Breeders' Association chose to honor them as a couple.
"I felt more comfortable being honored as a team, because that's really what we've been," Miron said. "There's no way that I could have done some of the service work that I've done without her holding down things here. Mary Ann has contributed so much in the way of selfless service to others."
Miron said he hopes their story inspires others to also serve.
"Hopefully, our experiences will encourage others to do similar things and contribute in their own way as their own skills allow them to," he said.


---