January 26, 2023 at 3:27 p.m.
Creating a lifecycle assessment of emissions
Larson presents research at Minnesota Organic Conference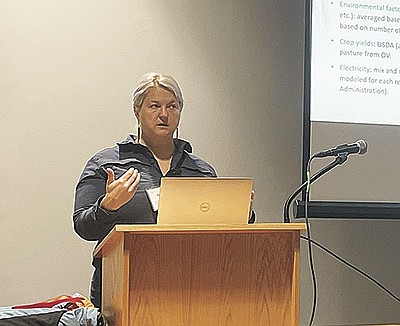 ---
ST. CLOUD, Minn. – Organic farmers, gardeners and enthusiasts gathered for the annual Minnesota Organic Conference Jan. 5-6 at the River's Edge Convention Center in St. Cloud.
Among the wide variety of breakout sessions offered at the conference, Dr. Rebecca Larson, associate professor and extension specialist at the University of Wisconsin-Madison, shared her research on creating a lifecycle assessment of greenhouse gas emissions in a session titled, "Organic Dairy Can Store Carbon: Strategies for the Future."
"A lot of direction and focus is on agriculture when we think of climate change and greenhouse gases," Larson said. "However, all sectors of industry need to be accountable. My job is to make sure the science is out there so farmers and other people can make informed decisions."
The model Larson, and the team of scientists she worked with, created considers the many variables effecting carbon outputs and carbon sequestration in order to accurately predict what the carbon emissions are for small organic dairies and how they can improve their carbon footprint.
There are large variables that impact emissions including manure management, feed sourcing, energy and climate, among others. Larson said she and the research team worked hard to ensure the numbers they assessed were averages and accurately represented a wide variety of organic farms.
To account for these variables, the study was split into four regions of interest. The regions group like areas together that have similar climate, herd size and farming practices.
The first phase of the project was funded by Organic Valley using farms from the cooperative to create the model and build regions.
With the help of the U.S. Department of Agriculture, the project continued to its second phase – finding the impact of proposed mitigation practices.
"The lack of data in the organic space is pretty amazing," Larson said. "The investment from the USDA will hopefully fill some of those gaps so our model can more accurately represent organic dairies."
Larson said the goal is to give farmers enough information to determine what impact their farm has, where they can go and some strategies for how to get there.
The study shows organic dairies are more carbon neutral than previously thought. Organic dairies are often criticized for being a less efficient way to produce milk compared to conventional dairies, therefore having more carbon outputs. However, the model revealed the importance of taking into consideration grazing and other carbon sequestering techniques to find the most accurate number.
"Organic farms generally have higher greenhouse gas emissions if they do not include the carbon sequestration number," Larson said. "Everyone looks at the fat and protein corrected milk, but there are so many other factors to consider, especially how they store carbon."
Larson said organic farms are often more dynamic, and the model is built to reflect the benefits that arise from these types of farming systems.
Larson is excited to share her and her team's findings as an effort to reduce the carbon footprint.
"Climate change makes me nervous; however, these models will remind people you could remove all of agriculture and still have a problem, but at least we are doing something," Larson said. "This is meant to be transforming space and not give an end-all solution."
The research team at UW-Madison includes Larson, Dr. Horacio Aguirre-Villegas, Dr. Erin Silva, Dr. Michel Wattiaux and Nicole Rakobitsch, director of sustainability at Organic Valley.
---