August 26, 2023 at 8:00 a.m.
The Day That Went Awry
Blown away barely used
Schulze family loses new barn to July thunderstorm
---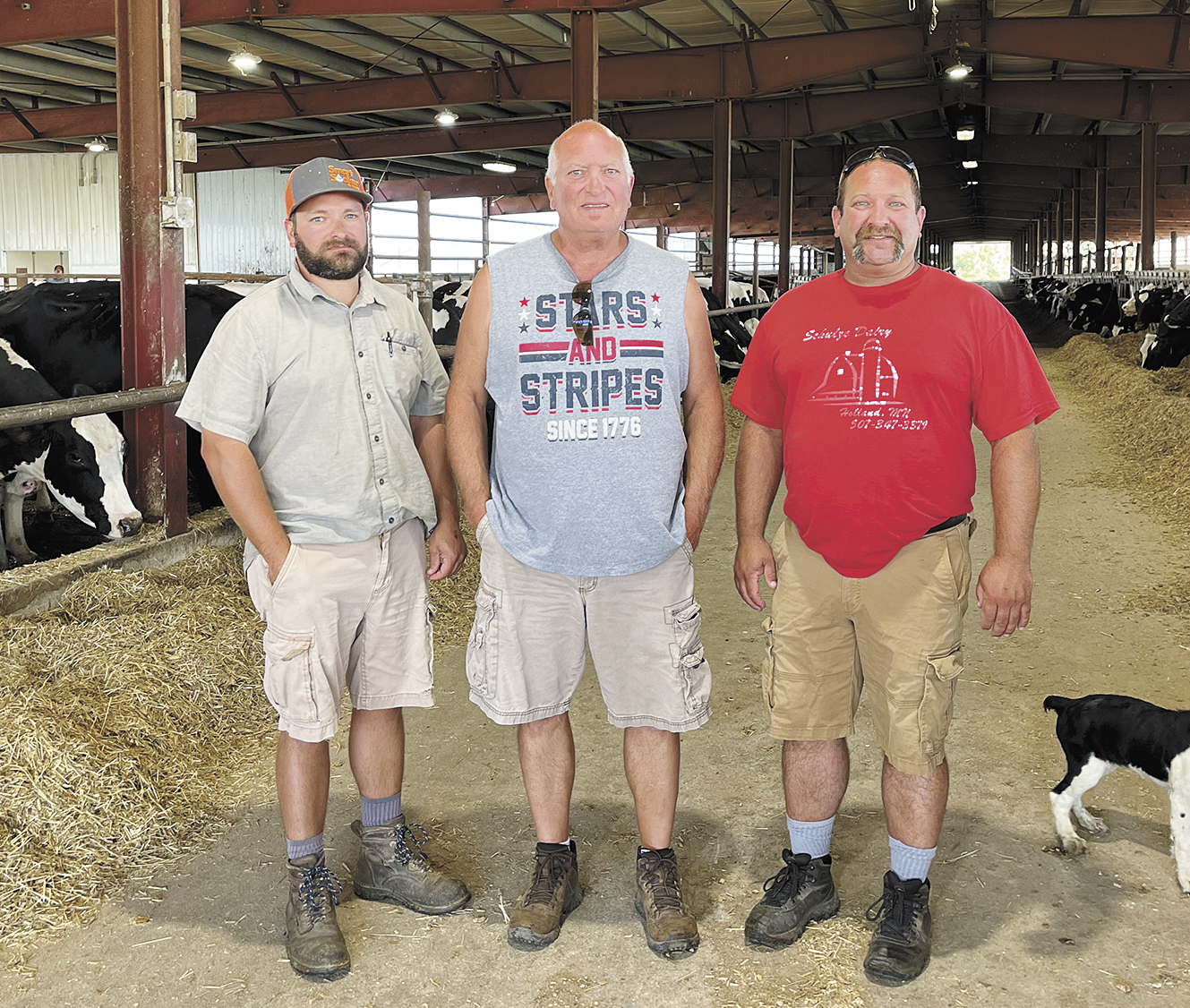 Jerry Nelson/Dairy Star
Chris (from left), Rod and Devin Schulze stand in their dairy barn July 25 near Holland, Minnesota. The barn was rebuilt after being destroyed by a summer thunderstorm July 1, 2011.​ 
HOLLAND, Minn. — The Schulze family will never forget July 1, 2011, because that was the day when a summer thunderstorm destroyed their new dairy barn on their farm near Holland.
Rod Schulze and his sons, Devin and Chris, had been using their all-steel, tunnel-ventilated freestall barn for just nine months when a severe storm tore through their area.
"We had recently doubled our herd by building the new barn," Rod said. "Our new freestall facility was designed to house 320 head. We had 220 cows in it when the storm hit."
The day had dawned hot and humid. Later that afternoon, the Schulzes saw an ominous storm cloud rolling in from the west.
"After we moved some tractors to prevent them from being damaged, we went to the garage and watched the storm," Devin said. "Debris started flying. Old cottonwood trees were snapping like twigs."

But, the storm was not yet over. The Schulzes could see that a second storm front was rapidly approaching from the west.
"It was eerily calm between the first and second wave as if we were in the eye of a hurricane," Chris said. "I ran to the milking parlor and told our hired guys to hurry up and take shelter in our house. One of them outran me on the way to the house even though I had a head start."
Rod, a first responder with the Holland Fire Department, received an emergency call after the first wave of the storm had passed.
"The emergency was only 2 miles away, and I was the closest first responder," Rod said. "I took off in my pickup and had gone only a short way when debris began to hit the vehicle. A wind gust smashed into the pickup and turned it 90 degrees. I found myself heading into the ditch, so I put the pickup into four-wheel drive and got out of there."
Meanwhile Chris and Devin, along with the farm's hired men, were rushing into the basement of the Schulzes' farmhouse. Devin held his infant son in his arms.
"It turned completely black outside, and the wind just roared," Devin said. "Right when we reached the basement, one of its windows blew in."
Rod eventually got his pickup turned around and headed back to the dairy, navigating around debris and downed power poles.
"When I got back to the farm, it at first didn't dawn on me what had happened," Rod said. "Then I looked across the yard and saw that our new dairy barn was gone."
The 106- by 410-foot steel I-beam structure lay in a twisted heap across the road, about 30 yards from where it had sat. There was not a scratch on the gravel roadway to indicate the barn's passage. A nearby wind tower had recorded a peak wind gust of 168 mph.
"The free stalls were still there, but two of the three rows of headlocks were gone," Chris said. "The cows had gotten loose and were running all over the place."
It was not long before volunteers began to arrive and help the Schulzes.
"People just started coming with payloaders and other equipment," Rod said. "Pipestone Livestock Auction Market brought out a portable corral so that we could keep the cows from running around, and Pizza Ranch brought out a bunch of pizzas. Rusty from Gorter's Clay and Dairy Equipment checked out the milking parlor, which was somehow still functional. We were overwhelmed and didn't know what to do or where to start. Somebody said, 'Milk the cows,' so that's what we did."
The Schulzes lost three cows during the storm and had to cull more than a dozen others that had been injured, but the challenge of their post-storm recovery had just begun.
"The weather was scorching hot, and there was no wind," Rod said. "Without the barn, our cows didn't have any shade, and we began to lose animals to heat stress. We rigged up a water wagon and hired local high school kids to continually spray water on the cows. The cows' udders began to get sunburned, so we had to apply sunblock to their udders."
Devin said the heat caused schedule changes as well.
"Because it was so hot during the day, we had to do things like breeding and herd health checks at night," Devin said. "We would start at 10 in the evening and work all through the night."
The Schulzes wanted to get their barn rebuilt as soon as possible. One of their first phone calls was to Doug DeRuyter, the contractor who had built the barn that the storm had ripped from its concrete and rebar roots.
"Doug did a terrific job of reconstructing our barn," Rod said. "He set aside other projects and gave us priority."
By the end of September, the Schulzes' barn was rebuilt and refilled with cows.
However, the dairy barn was not the only structure at Schulze Dairy that was devastated by the storm.
"We lost some grain bins, and three of our machine sheds were severely damaged," Chis said. "Our silage pile lost its cover, and our calf huts were blown all over the place. One hut was found 2 miles away. The tractors that we moved received more damage than if we had left them where they had been."
The Schulzes said their farm sustained more than $1 million in damage during the storm.
Much has changed since that fateful July day. Schulze Dairy has grown to 750 head, and Rod has transitioned the operation to Devin and Chris. But, the memory of the storm still burns brightly in the Schulze family's memory.
"We are thankful that nobody was hurt," Rod said. "Above all, we are grateful for the help we received from the volunteers and the support we got from the community. We can never thank everybody enough. We will always remember what they did for us."
---