October 14, 2022 at 6:38 p.m.
Gibbs sisters fit their way to success
Jamie, Lindsey place in top 5 of Youth Fitting Contest at World Dairy Expo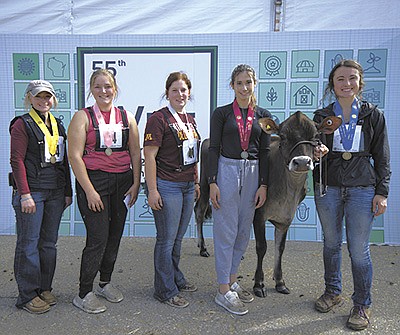 ---
MADISON, Wis. – The World Dairy Expo Youth Fitting Contest was held Oct. 2. in Madison, with 78 youth from the United States, Canada and Denmark competing. Jamie Gibbs, of Rollingstone, Minnesota, placed second in the senior female division. Lindsey Gibbs, also of Rollingstone, placed fourth in the intermediate female division.
"I'm really proud of myself," Lindsey said. "I was nervous before the contest, but after I got started the rest just felt like a breeze."
Kyle Natzke, originally from Wisconsin and now a show herd manager in California, was the official judge of the competition. He evaluated contestants on their ability to handle fitting equipment with ease and the techniques they used for body clipping, topline grooming, blending hair and applying sprays. Participants were given one hour to fit their animals.
"Placing second was an amazing experience," Jamie said. "Kyle Natzke is someone I have always looked up to for both his heifers and his fitting."
For the Gibbs sisters, their years of fitting experience and practice before the contest prepared them for success.
"I clipped all of my own heifers throughout the year," Jamie said. "You have to get to know your heifers' hair type and what style of fitting will help them look the best they can."
Lindsey agreed.
"I clipped my heifer's head and legs before the contest," she said. "I also made sure my clippers were sharp and that I had the right sprays."
Participants were allowed to clip their animals' heads, necks and lower legs prior to the contest, because those areas were not part of judging.
Jamie also gained experience through competing in Expo's fitting contest last year. She placed fourth in the intermediate female division. This was Lindsey's first year entering the contest.
"I wanted to see how I could do under a lot of pressure," Lindsey said.
Jamie said she first began competing in the fitting contest because of her friend's, Adhyn Schell's, advice to do so.
"Plus, clipping is always the most enjoyable when fitting with a friend or someone you can learn from," Jamie said.
Schell did well in this year's fitting contest, too, placing first in the intermediate female division.
For Jamie and Lindsey, sheer enjoyment keeps them fitting.
"Fitting has turned into one of my favorite things to do because you can just get lost in it, like people who really like drawing or painting. It's an art," Jamie said.
Lindsey agreed.
"Fitting cattle gives me a sense of creativity," she said.
The fitting contest was only one part of Jamie and Lindsey's trip to WDE this year. They both showed their Jersey heifers, and Jamie showed a Milking Shorthorn heifer that she co-owns with Schell. Lindsey also competed in the Youth Showmanship Contest.
Beyond Expo, Jamie and Lindsey are involved in other facets of dairy. They are active in the 4-H dairy project and show at the Winona County Fair and Minnesota State Fair. They help their parents, Nathan and Bridget Gibbs, on their 200-cow dairy farm. And together with their older sister, Cora, they are developing their own small herd of show type Jerseys, which they show throughout the Upper Midwest.
Jamie's interest in Jerseys also led her to a crown. She is serving as the 2022-23 Minnesota Jersey Queen.
"I have a big passion for the dairy industry, and I love being able to talk to others about cows and the breed that I love," Jamie said.
---