November 23, 2022 at 2:34 p.m.
History lives on at Davidson View Farms
Fourth, fifth generation work together for success on Civil War-era property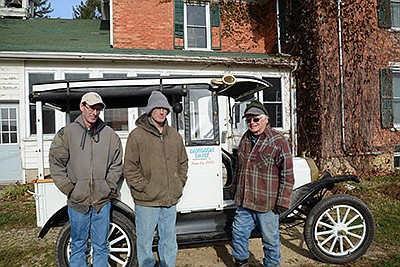 ---
HARVARD, Ill. – The Davidson family has farmed in northern Illinois for more than 130 years. Starting out milking 13 cows, Richard Davidson's great-grandparents immigrated from Ireland, and in 1889, they settled at a farm established during the Civil War. From generation to generation, the Davidsons worked together and grew their farming operations beyond that of the original farm.
"At one time, our family had four farms with cows on them," Richard said.
Richard and Ella Davidson and their two sons, Gary and Andy, who are the fifth generation, are the last of the Davidsons to milk cows. Operating two separate farms, Gary farms with his parents while Andy farms a mile down the road. However, a spirit of cooperation meshes the work into a seamless flow from farm to farm.
"Andy and I are not partners, but we work together," Richard said. "We help each other out, and it benefits both farms."
Milking partially in a barn built during the Civil War, Richard and Gary milk 84 cows in an 84-stall stanchion barn. Andy milks 50 cows in a 56-stall tiestall barn.
"We usually sell eight to 10 cows in the fall to get down to a barn full," Gary said. "Milking a second shift takes too long."
The barn has been added onto over the years, but the original parts are still in use. A glass pipeline was installed in 1962 and is the same pipeline the Davidsons use today.
"It was the cutting edge of modern back then," Richard said.
Richard and his father and two brothers farmed in partnership on the home farm; therefore, Andy stepped out on his own in 1996 after graduating from the University of Wisconsin-Platteville. The farm was owned by Richard and his brothers and parents. When his grandpa died, Andy bought out his grandma's share in 2009 to become an owner.
Richard's dad did not have a will, leaving his sons to figure out how to split up the farm when he passed. Richard's brothers inherited separate farming operations, while Richard remained on the original Davidson farm.
"We were sort of in the process of separating operations anyway, but it made it more difficult without a will," Richard said. "Things were entangled. We bought land together in a combination of different owners. I took over the land with debt and paid it off, and nobody in this family has had any debt since. We've been staying away from debt. If we don't have the money, we don't buy it."
Richard and his dad and brothers owned 1,000 acres of land in partnership. Today, Richard and his sons farm around 500 acres, which includes 200 acres of alfalfa, about 200 acres of corn, 50 acres of wheat and 50 acres of grass.
"It was a really good crop year this year," Richard said.
The Davidsons hire out the planting, spraying and combining of corn as well as silage harvest.
"We do our own hay," Richard said. "Andy has the big baler and the rake, and I have the Haybine. Sometimes we get too much cut, so we have to hire someone to help catch us up."
Andy bought a new round baler last year and made more than 1,300 bales.
Cows go outside to eat during the day. At both farms, the Davidsons feed round bales of hay in feeders along with corn silage. No ration is fed. Small square bales provide overnight hay in the barn. The cows also eat pasture when in season.
Both herds are made up of registered Holsteins. Half of Richard's herd and one-third of Andy's herd are Red and Whites.
"We started with Reds in 1970 when I was a young man picking sires," Richard said. "I knew we had cattle that carried the red gene. We used Piney-Hill Majority and got five or six Red and Whites out of all black cows. Then Triple Threat came along, and we used him quite a bit and built up our Red and White herd over the years."
A love for genetics and breeding quality cattle guided the Davidson farm mission for many years.
"There's not as much demand for those kinds of animals anymore, and we sold our last show cow in 2011," Gary said.
The Davidsons make the best of old facilities but have transitioned from upright silos to using a bunker to store silage.
"We don't cover anything, and the cows eat it all," Richard said.
Gary agreed.
"We're all for simplicity and less work," he said.  
A heifer facility for pre-breeding animals is located across from Andy's farm at Richard's sister's place. Heifers are housed there from mid-March to Nov. 1 and return to Richard's farm during the winter. Breeding-age heifers from both farms are housed at Richard's farm.
"We break the springers to milk, and then Andy comes and gets his and takes them back to his farm," Richard said.
Each farm raises their own calves, except for those born of springing heifers – their calves stay at Richard's.
"I have limited space at my farm, so this arrangement works out well," Andy said.
The Davidsons know that backup is never far away and have come to rely on each other on a daily basis. And woven into their love for farming is their love for history. Richard adds his treasures to those store by family members who came before him.
"I've also become a collector," Richard said.
His house, which is known as the Jacob A. Wood house, was built in 1876. The grand home was considered a mansion in its day and built to be used as multi-family living featuring separate entrances and common rooms. The dinner bell on top of the house still functions today.
"Generations before me moved in, lived here all their lives and then died," Richard said. "Then the next generation came in. That's how we ended up with so much stuff. We still have the trunk that my great-grandmother used when moving here from Ireland."
A museum of sorts can be found in one of the upstairs bedrooms containing priceless relics from the past. An antique rocking horse, sewing loom and other rare pieces fill the space. In 2015, Richard had his great-grandfather's 1915 Model-T milk truck restored. Now, he uses the vehicle to take his grandchildren for rides.
The farm was originally owned by Wood. Rumor has it, when his sons wanted their money after coming home from the war, he pointed at the barn and said, "Here it is." That same barn still stands as a piece of history. The Davidsons have not felt the need to modernize beyond what they need. They continue to live the Davidson family's passion on a farm that has stayed true to its past.


---