July 25, 2022 at 3:29 p.m.
Princess Kay Finalist
For the love of family, farming
Wright enjoys representing dairy with firsthand experience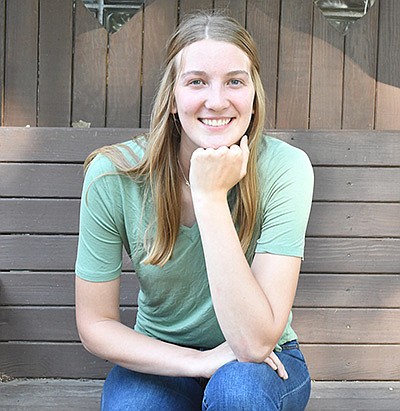 ---
HUTCHINSON, Minn. – Grandma picked her of all her siblings to be the gentle care taker of the calves. Now at the age of 19, Allison Wright does just that and so much more.
Wright, daughter of Paul and Heather Wright, is representing McLeod County as a Princess Kay of the Milky Way finalist.
"I grew up working alongside my family," Wright said. "I know just how much work farm families face every day, and I know exactly what goes into making a nutritious glass of milk."
Wright does a variety of chores such as fieldwork, milking and calf chores. This summer, she is also doing an internship through the University of Minnesota Extension with Meeker and McLeod counties.
Wright is going into her sophomore year at South Dakota State University for agricultural leadership and communications. She realized how much she enjoyed talking and advocating for agriculture through the county's dairy royalty program, 4-H and FFA.
 "One of my favorite projects to do with 4-H is the livestock demonstrations," Wright said. "People, especially at the state fair, have great questions and are genuinely curious about the topics we talk about."
Connecting families to the farm is her goal as a dairy princess and college student. She enjoys having conversations with consumers and being a person people are comfortable to approach.
Wright was in dairy knowledge bowl and dairy judging and participated in a variety of FFA events that have given her a surplus of information to share with consumers.
"I've pursued a lot of opportunities to expand my knowledge about dairy," Wright said. "It's important for us as farmers and advocates to reach out and show them what life is like and the good things that come from dairy."
One of her favorite messages to share with consumers is that dairy is local. Wright said her family utilizes other local businesses' services such as electricians and feed mills. She said part of the reason her family opened their own farm store was to give the area a place to learn about and purchase products that come from Minnesota Grown farmers.
"I love using social media to promote agriculture," Wright said. "We are working to get our farm store going, and I am the primary picture taker and video maker for our social sites."
Being an outlet for farm products and information is something Wright enjoys on her farm. The diversity of things they do entices people when she opens a conversation, Wright said.
"I like to tell people we feed our calves purple milk because they get confused and immediately have to ask how," Wright said.
The Wright family milks 45 Holstein cows, raises steers and hogs, and grows Aronia berries. The family sells the berries at their farm store.
Two years ago, Paul had the idea to put Aronia berry juice in the milk replacer. The thought was the high antioxidants would be good for the calves' immune systems. Sure enough, Wright has seen a difference in the vigor of the calves as they grow. Now, every calf gets 2 ounces of Aronia berry juice in their milk.
Wright said farmers are responsible, innovative, passionate and resilient and that her family is a testament to those qualities.  
"My passion for dairy started in the barn with my dad and grandma," Wright said. "I enjoy our barn talks."
Wright said her grandma has taught her how to be an animal lover and good listener, and her dad has helped her grow her professional presence.
As she soaks up the last moments of summer as a McLeod County Dairy Princess, she is looking forward to the Minnesota State Fair and experiencing, once again, the melting pot of people looking to talk about dairy.
"Growing up on a dairy farm has given me something to talk about with people, and I smile seeing the difference farmers make in their communities," Wright said.
---