July 11, 2022 at 2:27 p.m.
A day in the life of the Barber, Franck families
Daily chores, county fair fill time for Lee-Ann's Swiss June 24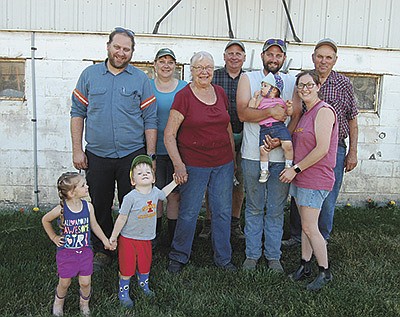 ---
DEWITT, Iowa – The daily duties at Lee-Ann's Swiss are spread among family members, each playing a role that allows the 90-cow herd and corresponding youngstock to provide purpose and pleasure for four generations.
The family members not only shared the day's tasks, but also attended the Benton County Fair June 24.
The first generation, Lee and Luanne Barber, established the Lee-Ann's herd with registered Brown Swiss in 1962. Their work led to the couple being named Brown Swiss USA's Roger Neitzel Distinguished Service Award winners last year.  
But these days, their son-in-law, Randy Franck, is the one who begins each day at 6 a.m. in the milking parlor. The facility started out as a double-4 herringbone and became double-5 when the feeding system was removed.
Randy married Elaine Barber in 1984 after both graduated from Iowa State University and returned to the farm in 1985. Randy spends his days on the farm while Elaine works for the Farm Service Agency in Clinton County.
When milking began, Randy was alone in the parlor. But at 7 a.m., employee Cheryl Schrader arrived to assist until milking was finished.
"We found Cheryl in 2014 when we needed some help during the Iowa State Fair," Randy said. "And, she's stayed with us since then. It's been great to have her."
Randy and Elaine's son, Brandon, the third generation, delivered feed to the cows and heifers that day. He finished before heading down the road to his job at Remington Seeds.
Lee and Luanne's morning chores included feeding calves and replenishing water tanks while the dogs, Frankie and Sadie, follow them around on the dairy they bought in 1969. The Barbers live there, just 3 miles from where Luanne grew up.
When the couple married, Lee was already developing a Brown Swiss herd. He and his father bought two calves on a farm dispersal for $17.50 each when Lee was in junior high.
"It was a sad day (for that farm)," Lee said. "But we also bought five calves of another breed and only the Swiss did well. So, I bought my first registered Brown Swiss for an FFA project in 1958."
The Barbers' daughter, Maureen Hanson, lives with her husband, Bob, near La Porte City.
Lee and Luanne left the farm mid-morning to watch the two youngest of Maureen's six children show dairy, beef and goats at the Benton County Fair in Vinton.
The Hansons lease animals from dairy farms closer to their home. But Lee-Ann's Swiss cattle are shown regularly in Iowa and beyond.
The Barbers' son, Charlie, and his family live in Florida.
Back at the farm, Randy worked alone again to clean up after milking, then he took care of breeding and veterinary needs. Randy picked up Holstein bull calves at a nearby dairy. He tagged them and transferred them to the hutches on the dairy, where they will stay until weaning.
"We found out there is a good market for them at 500 pounds," Randy said. "It's another way to bring in some extra cash."
After finishing his off-farm day, Brandon returned to the farm to mix feed for both the evening and the following morning.
"I like to get the morning feed mixed the night before, just in case something happens in the morning," Brandon said.
Once a week, the fourth generation of this dairy family comes to the farm, delivered by Elaine and by Brandon's wife, Demi.
The Franck grandchildren include Brandon and Demi's 3-year-old, Rosalie, and 1-year-old, Cora, who are at day care with 3-year-old Everett, son of Ryan Franck and his wife, Allison.
Randy and Elaine's daughter, Amanda Hunt, and her husband, Jordan, have two additional Franck grandchildren and live near Delhi – too far for inclusion in the weekly ritual.
The evening calf feeding became a family affair with the grandchildren there. Rosalie, Cora and Everett joined their great-grandparents and parents with bottles prepared by Demi.
Elaine missed out; she is Randy's daily partner for the evening milking.
By 8 p.m., all four generations went their separate ways: Lee and Luanne to the farmhouse; Randy and Elaine to their home on the farmstead next door; Brandon and his family to their home near DeWitt; and Ryan and his son back to Low Moor.
The routine will change next year. Lee and Luanne are working on a house in DeWitt that will become their retirement home. Brandon and his family will move to the dairy. But plans still include off-farm jobs for Brandon, Demi and Elaine.
"It's going to be a little challenging," Randy said. 

---