September 24, 2021 at 7:06 p.m.
Ziemers measure growth through efficiency, not size
Activity monitoring, no tilling, breed diversification give family an edge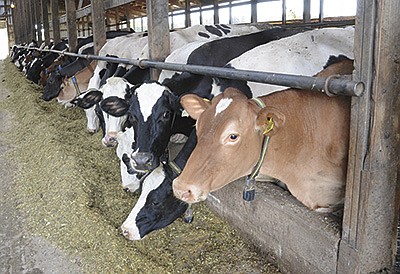 ---
    CEDARBURG, Wis. – Reproductive efficiency and labor savings are big benefits Paul Ziemer and his family are seeing from the cow monitoring system they installed nearly two years ago. Their wireless monitoring solution features an automatic sort gate that makes it easy to identify and separate cows for breeding, medical treatments and other tasks.
[[In-content Ad]]

    "Our farm was only the second one in the country to install the SenseHub system in conjunction with an automated sorting gate," Ziemer said. "The auto sort gate is not common for a farm this size."
    The technology the family added called, SenseHub, is one way the Ziemers, who milk 120 cows and farm 250 acres near Cedarburg, are getting ahead. Switching to no-till farming is another. These dairy farmers have also experimented with other breeds to gain better components and hardier health traits. Growing more efficient, rather than larger, is how the Ziemers like to farm.
    "When suburbia is crouching in on you, there's not a lot of land available," Ziemer said. "That's why we're not expanding. Instead, we're always looking to get more efficient."
    Ziemer farms with his parents, James and Sharon. The Ziemers are fortunate to have two veterinarians in the family who also help out on the farm and offer medical advice when needed.
    Ziemer's older sister, Becky, works at Country Vet in Rubicon, and his younger sister, Jenny, works at Mayville Animal Clinic in Mayville.
    "My sisters are definitely my consultants," Ziemer said. "They're good at advising, and they've taught me a lot. If I'm wondering what I should I do about a certain cow or what antibiotics I should give, I ask them."
    Ziemer's wife, Katie, works for the Sand County Foundation as a soil conservationist and also helps with night milking and other farm chores as much as she can while caring for their 8-month-old son, Elijah, at the same time. Ziemer came back to the farm in 2013 after graduating from the University of Wisconsin-Platteville with a double major in animal science and crop science with an emphasis on dairy. Ziemer is the fifth generation on the farm which has been in his family since 1881.
    The herd has grown slightly since his return, climbing from 100 cows to 120, but the Ziemers measure growth in other ways. Their system for activity and rumination sensing has done wonders for the farm's reproduction program.  
    "It's a great system," Ziemer said. "We've noticed a huge improvement in reproductive efficiency. We now average 1.6 services per conception and have shortened up our calving interval by a month or more. The auto sort gate helps ensure we catch all the cows for breeding. Our semen salesman is probably not a big fan of the system because we buy a lot less semen now."
    All cows and heifers breeding age and up wear collars with a neck tag for monitoring activity and rumination. Instead of having their own network, the Ziemers' data is stored in the cloud. A controller in the freestall barn gathers information from the collars and sends it to the cloud. Another controller on the sort gate pulls data from the cloud, and by reading numbers, it knows which cows to sort. Ziemer can program in commands if he needs to sort out cows beyond what the system is recommending. For example, if he needs to give a cow a prostaglandin shot, he can have her sorted as well.
    "Its accuracy is pretty darn good," Ziemer said. "Any screwups are usually because of operator error and are not the system's fault."
    Cows are milked twice a day in a double-8 herringbone parlor with Ziemer and his mom on the morning crew, and Ziemer's mom and a hired hand on the evening shift. The sort gate has proven to be a labor-saving feature giving the Ziemers several hours back per week.
     "We don't have to search through cows to find the ones we need," Ziemer said. "The system does the sorting for you, and the sort pen fills automatically. Whoever is milking doesn't have to worry about sorting cows or finding sick animals. There's a pen of cattle waiting for you when you're done."
    Ziemer said the layout was easy to set up since the parlor had a return lane and catch gate already in place. The design made sense for the Ziemers who do not have headlocks in the freestall barn but rather have a treatment stall outside the parlor.
    The gate sorts during both morning and evening milkings. About 10 cows fit in the sort pen and are transferred to the treatment stall when needed. A collar reader above the gate and sensor eyes on the front, middle and back of the gate detect tags and keeps track of cow movement. The gate opens and closes automatically.
    "For Monday night herd health checks, we used to run cows down the palpation rail," Ziemer said. "Now, we don't have to chase every cow through. It might only be 10 or 20 cows, and one person can do it by themselves."  
    The gate sorts out cows in heat, sick cows and other cows the Ziemers select.
    "The system catches sick cows before you would know they're sick," Ziemer said. "Otherwise you wouldn't know until they're really sick. It's hard to quantify how much that saves, but it's definitely a bonus. Once the sick cows are in the sort pen, you're going to take care of them."  
    Ziemer uses an app on his phone to keep tabs on the system. He and his wife monitor the data, with Ziemer in charge of sick cows and cows in heat, while Katie handles scheduling.
    "It's definitely worth the labor savings," Ziemer said. "The system doesn't screw up; people screw up. It's a really good management tool. I refer to it as the silent herdsman."
    The Ziemers strive for efficiency in the fields as well as the barn and began transitioning into no- till cropping practices in 2015. Today, nearly all acres are no till.
    "No till saves a lot of time," Ziemer said. "We switched to no till after buying better manure injectors that cause minimal disturbance. If I spread in the fall, you won't even know I was there once spring comes. You can no till right into it."  
    Another area in which Ziemer found efficiencies was in diversifying the herd. Ziemer was attracted to the longevity, health traits, and higher components of the Ayrshire breed and bought three Ayrshires in 2012. He now has a dozen.
    "It's a fun, little project herd," he said. "Genetic improvement has been slow but steady. I went from first-lactation animals giving 14,000 pounds of milk when I started with Ayrshires to heifers now milking 16,000 to 17,000 pounds. Mature cows give around 20,000 pounds of milk."
    The Ziemers have added color to their Holstein herd with Guernsey and Jersey breeds as well. The Guernseys came from the farm where Katie grew up in Hartford, and the Jerseys belong to Jenny. The Ziemers show at the Wisconsin State Fair and World Dairy Expo. This year, two of Ziemer's Ayrshires will be making the trek to Madison.
    In the future, Ziemer would like to check out value-added options such as selling cheese made from their farm's milk. But for now, the Ziemers are satisfied with the improvements they have made and the efficiencies that have resulted.


---