November 29, 2021 at 9:09 p.m.
Creating opportunities in wet calf performance
Earnest offers suggestions at PDPW Calf Care Connection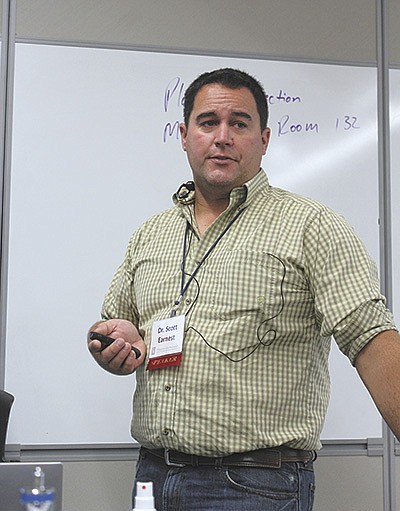 ---
EAU CLAIRE, Wis. – Caring for young calves is one of the most crucial jobs on a dairy farm, one that directly impacts the farm's future success. That was the focus of the Professional Dairy Producers Calf Care Connection Oct. 27 in Eau Claire.
Dr. Scott Earnest, of Lodi Veterinary Care in Lodi, discussed strategies for developing a management program to keep a farm's youngest herd members thriving and growing, laying a solid foundation for the herd's future performance.
"I don't have a magic bullet that makes calves healthier. It is the same fundamentals that you hear everywhere," Earnest said. "But what I am excited about is using measurements and recordkeeping as a way to make sure that we are getting these fundamentals done every time for every calf."
When it comes to the fundamentals of calf success, Earnest referred to Dr. Sheila McGuirk's five Cs of calf care: colostrum, calories, cleanliness, comfort and consistency; adding that keeping records can allow benchmarks to be developed to ensure each calf is getting what they need to thrive.     
"Not every farm achieves the very best of the five Cs every single day, and we know that," Earnest said. "That is why we have challenges in the calf program, but by making them front and center in our measurements, our routine and our check-ups on our calf barn, we can really start to drive things in the right direction."
Building a solid program starts with setting goals, Earnest said.
"You really need to have the whole calf care team involved in your goal setting, so everyone is on the same page," Earnest said. "You want to have management expecting the same things that the calf care team is doing on the ground, and ideally, you would want to have your veterinarian and your nutritionist involved in developing those goals as well. They see a lot of different dairies and a lot of variety."
According to Earnest, some of the common areas to set goals for might include growth, disease incidence and mortality. Areas needing focus and improvement vary from farm to farm.
"There is no one farm I work with that does everything right," Earnest said. "There are some that are really good with calves; some farms that are really good in the parlor. Ideally you want to hear about what your neighbors are doing that outperforms what you are doing at home and try to catch up with them."
Earnest recommended reviewing the Dairy Calf and Heifer Association Gold Standards, which he said provides information on benchmarks for all areas and phases of calf rearing.
For example, improving calf growth might be a goal. Goals for calf and heifer growth should be based on the expected size of mature cows, Earnest said.
"In general, you should be looking at doubling weight from birth to weaning. So, if a calf is 80 pounds at birth, she should be at least 160 pounds by the time you wean her," Earnest said.
The heifer should then be at 55% of her mature weight at breeding time and 85% of mature weight at first calving.
"The important thing is that you have realistic and obtainable goals and you revisit them to make sure you are moving in the right direction," Earnest said. "In order to get there, I think you need to be very clear with your team how you want things done. That way people will know how to define whether they have succeeded or failed at whatever task you have put in front of them."
Once the goals have been set and the plan has been implemented, the data needs to be followed through with ongoing dialogue among the team on performance and results.
"Let them know how you plan to communicate with them and ask them how they are going to communicate with you," Earnest said.
Records should be reviewed on a regular basis to ensure benchmarks are being reached for all calves.
"You should probably be looking at and reviewing your records at least monthly," Earnest said. "If you are not looking at them monthly, I would say it is too far on the back burner for a project as important as calves."
Reviewing the records as a team is beneficial, according to Earnest, creating a dialogue for ideas and improvements.
"No matter how you want to do it, if it is with meetings, emails, Post-it notes on the wall, we need appropriate methods to talk about how things are going, what is going well and what might not be going well, and how we are going to do something different in the future to get where we want to be," Earnest said.
---
Today's Events
CATEGORY
oct 4, 2023 @ 9:00am
CATEGORY
oct 4, 2023 @ 12:00pm