March 15, 2021 at 3:22 p.m.
Making money from manure
Renewable natural gas market offers alternative revenue streams for digesters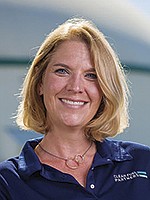 ---
    MADISON, Wis. – In their early days, manure digesters were mainly used for odor mitigation and power generation. Now, digesters are becoming a sought-after means of producing  renewable natural gas – a lucrative market that rewards digester use to a greater extent than does the electrical market, offering new opportunities to dairy farmers.
    "To be part of a digester now is a great opportunity for the farm community," said Jessica Niekrasz, president of Clean Fuel Partners, during the virtual Dairy Strong conference held Jan. 19-21. "RNG systems take a lot of investment but also pay pretty well because of the markets that are out there."
    In a panel entitled, "Money from manure: Strategies for alternative revenue streams," panelists discussed the ins and outs of manure processing and potential revenue options. Hosted by Greg Steele from Compeer Financial, the panel included Niekrasz, Josh Meissner from Norm-E-Lane Farm; Brian Dolski, CFO of Pagel Family Businesses including Pagel's Ponderosa Dairy; and attorney, Jordan Hemaidan, from Michael Best.
    "There's a big demand for dairy digesters within the renewable natural gas marketplace," said Dolski, who has experience in the compressed natural gas business. "Dairy digesters generate more credits per unit of energy than any other type of fuel out there and will displace a landfill project or food waste digester project."
    Renewable natural gas can be used as vehicle fuel in the form of compressed natural gas. According to the panel, the largest RNG market is in California, created by the state's Low Carbon Fuel Standard program. This program mandates greenhouse gas emission reductions for the fuel industry in the state of California, resulting in a niche market worth 200 million gallons. Niekrasz said Oregon and California have LCFS markets, and seven other states are considering such a market.  
    To generate credits and monetize manure, a farm must demonstrate both a physical and contractual pathway after making the gas.  
    "If you're within 5 miles of an interstate pipeline, consider yourself very lucky," Dolski said. "You need to get the gas into a pipeline that's connected to other interstate pipelines and could theoretically end up in California to be sold as transportation fuel. If you're not near a pipeline, you have to pump gas and truck it to the nearest pipeline."
    To obtain the environmental attributes of renewable natural gas, the title must be transferred from the project producer to the CNG end user who will use it as transportation fuel. There are many ways this can be done, Dolski said, but typically involves the producer selling it to a gas marketer who takes title of the gas when on the interstate pipeline. The gas then gets sold to a CNG company who owns the stations where it is dispensed and sold as vehicle fuel. Credit brokers match up buyers and sellers of RNG credits.
    Dolski is not worried about dairy farms surpassing California's demand for renewable natural gas.
    "If a milking cow generates 150 gallons of fuel and the market is 200 million gallons, you're talking enough capacity to hold 10%-15% of the U.S. dairy herd," Dolski said. "RNG presents a massive market opportunity for the dairy industry."
    Under the federal renewable natural gas program, the CNG market has a 400 million gallon demand. A farm can participate in both programs but will only get LCFS credits for gas sold into California.  
    "There's tremendous incentive to get into the state of California," Dolski said.  
    One cow produces approximately 20 MMBtus. Dolski said the physical or natural gas is worth about $3 per MMBtu which equals $60 per cow per year. The federal credit is $1.50 which translates to $17 in MMBtus totaling $340 per cow per year. In California's LCFS program, Dolski said every project is unique and gets its own Carbon Intensity score. Generally, it is four metric tons or four credits per cow valued at $200 per credit amounting to $800 per cow per year. As a result, the total potential value per cow is estimated at $1,200 annually.
    "About five years ago, this was under $500 a cow per year," Dolski said. "I remember selling LCFS credits for $20 per ton and now they're $200 per ton. We've seen a lot of volatility to the upside of these markets over the last couple years."
    Revenue has to be shared among all players – the credit broker, gas marketer, CNG company, etc., but the RNG project owner gets the lion's share.
    Norm-E-Lane milks 2,600 cows in central Wisconsin and is in its 13th year of operating a digester. Capturing gas to make electricity, the farm entered into a five-year power purchase agreement with their utility, Dairyland Power, in 2008. In addition to generating power, the digester also produces bedding.  
    "Bedding is a big benefit for us and our initial goal for the digester," Meissner said. "We went from mattresses and sawdust to deep-bedded stalls, which has saved us $200,000 to $250,000 per year."
    On the operational side, the farm is at a breakeven point with utility sales equaling engine company contract costs and operations costs.   
    "Our utility has continued to find value in green energy, and we've been in a position to capture it," Meissner said. "Our power purchase agreement will come to an end in the next 1.5 to two years, and we plan to look at some of the new CNG opportunities available. I feel we're in a position to play in that category in the near future."
    When getting involved with a digester in the RNG market, a farm may choose to sell its manure to an offsite digester or share ownership with a developer. When working with a developer, farms need to consider certain risks. Who carries the risk of manure that does not meet the developer's expectations coming into the digester? How much is the farm going to commit to certain chemical constituent levels? How much is the farm willing to divert waste streams away from the digester? Who will pay for any capital expansion or alternation to make manure compliant with California rules?
    "In order for developers to justify this kind of investment, they enter into 20-year agreements with five or 10-year extensions," Hemaidan said. "It is a generation's worth of a relationship. Farms have to be very careful about what that looks like and how risks are allocated."
    Another option when producing RNG is for the farm to own the digester.
    "I know of one farm that's successfully done this in Wisconsin," Hemaidan said. "You need to think about the risks. What's going to happen to the LCFS price? It's not a guarantee. You must go into this relationship with eyes wide open."
    Hemaidan said the minimum herd size to justify a digester when selling into an LCFS market is nothing less than 1,500 cows but typically 2,000-plus, while some developers want 3,000. The number is site-specific, Dolski added, and sitting on a pipeline versus trucking it affects the number of cows needed to justify the investment.   
    Clean Fuel Partners has a history of owning and operating digesters and purchased a digester near Waunakee in 2015, which they sold to Brightmark in 2019. Clean Fuel Partners continues to manage and operate the digester, which now produces renewable natural gas from the manure of five area farms.  
    A farm selling its manure will need a person to analyze the value of the manure/gas independently of the developer. The farm also needs good legal counsel to allocate risks appropriately and make sure the project is done in a way that would be enforceable in court if things went badly.
    When a farm and developer own and operate the project together, more technical and economic expertise is required of the farm. If the farm plans to own the digester, a more expansive team is needed – complete with experts and consultants for every step of where the gas is made and dispensed.
    Manure is much more than waste. It can be a moneymaker for dairy farmers. By offering a new revenue stream for digesters, the renewable natural gas market is putting money in farmers' pockets.

---