June 28, 2021 at 3:40 p.m.
Milking Shorthorns the heart of Mapleton Valley Farms
Agnews breeds for excellence in type, production, longevity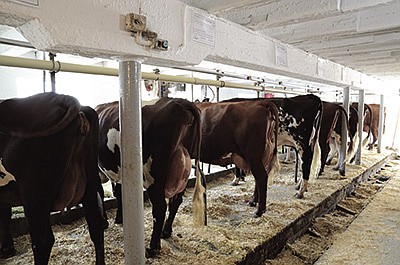 ---
OCONOMOWOC, Wis. – A special wedding gift brought Milking Shorthorns to the farm of Pat and Phyllis Agnew in 1978. Friends of the couple pooled their money to buy the newlyweds a registered Milking Shorthorn heifer. And so began the start of Mapleton Valley Farms. 
  The Agnews welcomed fellow Milking Shorthorn breeders to their farm June 17 during the American Milking Shorthorn Society's 100th Annual Meeting and Convention held in Fort Atkinson June 16-19. Milking Shorthorn enthusiasts came from all over the United States to celebrate the centennial event, which included an open house at Mapleton Valley Farms near Oconomowoc. Attendees had an opportunity to view the farm's cattle, which were washed and clipped and standing in stalls of wood shavings. Guests also enjoyed bakery pretzels, cheese samples and beverages while touring the farm.
Mapleton Valley Farms is run by the Agnew family, which includes Pat and Phyllis, and their daughter, Katie, and son, Tom, and his wife, Keely, and their children, Bryn and Blake. The Agnews milk 50 cows in a tiestall barn and farm 350 acres and also do custom planting and combining on 500 acres. A century farm in 2009, the sixth generation of Agnews – the grandchildren of Pat and Phyllis – have just begun showing cattle. 
"My love of the Milking Shorthorn is a family tradition," Phyllis Agnew said. 
She grew up on a farm in Fort Atkinson with one of the largest Milking Shorthorn herds in the country. Her parents, Willard and Sylvia Gerner, milked 60 cows and had 200 total head. Her dad did early embryo transfer work, and one of the first cows he flushed had seven offspring. Weg Acres Major's Faith was also the first Milking Shorthorn in the country to produce registered embryos, Agnew said. 
"My in-laws had a good grade Holstein herd," said Agnew, who came on board with her husband the year they married and purchased the farm as a couple in 1982. "But we continued to grow our Milking Shorthorn herd from that first heifer our friends bought us." 
The Milking Shorthorns eventually overtook the Holsteins in number, and now the Agnews' all-registered herd is 75% Milking Shorthorn and 25% Holstein and also includes 100 youngstock.
Known for their elite genetics, cattle merchandising is a big part of the Agnews' business. The family sells animals at state and national sales as well as through private sale and also sells bulls to stud and through private market. 
The Agnews show at their county fair, the state fair and World Dairy Expo. The farm is home to all-Americans and Excellent-scored cattle, and the 2017 Wisconsin Cow of the Year came from Mapleton Valley Farms. The farm's cows were also featured on the cover of Hoard's Dairyman in 2019 as part of the magazine's cow judging contest.
"Our first foundation cow came from the Van Dyke herd in New Richmond, whose farm was originally home to a herd of Milking Shorthorns," Agnew said. "There were two cows left when they decided to switch to Holstein. We bought those two. One was named Ria, and she was one of our most outstanding animals."
The R family continues to impress at Mapleton Valley. One such showstopper from that line is Recall – an Excellent 2E-93 6-year-old that was nominated all-American senior 2-year-old and senior 3-year-old.
  Building upon notable cow families, the Agnews were able to get in on a piece of the famous Cissy cow when they bought three of her embryos from a national sale. The purchase resulted in two heifers – Cassidy and Claire – which are the only heifers from this Milking Shorthorn. Both daughters scored Excellent 3E-93. 
"We did a lot of flushing with them, and right now, we have 10 young offspring and three cows from that family," Agnew said. "We merchandised many of those animals at state and national sales."
The Agnews sold one of the offspring from that original heifer at this year's national Milking Shorthorn sale June 19 where live lots averaged $2,280 and the high seller went for $9,700.
"Cissy excelled in both type and production," Agnew said. "It was a dream to get two heifers out of three embryos and have both animals mature. No matter what breed you have, it's not easy to find someone that really transmits. You might have a fabulous donor, but that doesn't mean she will transmit. But Cissy did."
Longevity reigns at Mapleton Valley Farms where the majority of Milking Shorthorns are in their third lactation or greater. Mapleton Vly Chance Francie was almost 20 years old when she passed away last year. She had a final classification score of VG-86 and made 280,065 pounds of milk,10,260 pounds of fat and 8,543 pounds of protein in 13 lactations. Borroloola, their cow of the year, is scored Excellent 4E-92 and will turn 11 this fall. She is a certified cow in the Milking Shorthorn breed – a status she achieved based on her deviation in milk over the breed average.
"We've built on certain families and also do embryo work," Agnew said. "We've sold embryos internationally and have been very lucky in getting bulls into stud as well. We bought a cow from my mom and dad's herd and sold one of her sons, Zumba, to Semex. He was an A2A2 bull used heavily in Australia, the U.K. and Canada." 
Pat was a board member and president of the National Milking Shorthorn Association in 2009, while Katie currently serves as a national board member. Tom judges state and national cattle shows, and Katie has started judging as well. In addition to farming with their parents, Katie is also a high school science teacher, and Tom owns a dairy farm supply company. Katie's teaching days are book-ended by milking cows morning and night.
"This is definitely a four-person operation," Agnew said. 
The Agnews strive for high components and have several animals with over 5% fat and protein. 
Their breeding strategy reflects their efforts to increase homozygous polled and A2A2 traits. 
"We think polled is the wave of the future and are doing a lot more polled breeding right now," Agnew said. "In our bull sales, our clients are asking for polled. We also breed for health traits, feet and legs, and disposition. The older we get, the more important disposition becomes. We like to milk low-maintenance cows. Type is also a must have. We like showing, and we like to support our state sales."
---