June 28, 2021 at 12:30 p.m.
Feed costs cause strain on producers
Kohlman, Yurczyk make changes on their dairy to help them through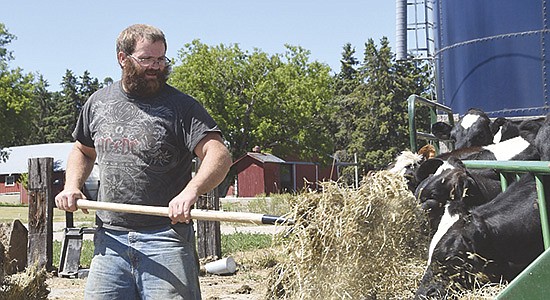 ---
    CHILTON, Wis. – Growing crops has never been a big interest for Jeff Kohlman.
    "Tractors weren't my thing," he said. "I liked working with cows."
[[In-content Ad]]

    This is why the dairyman purchases the large majority of his feed and focuses on managing his 500-cow dairy herd near Chilton. Although this started as a profitable way to dairy when he bought the farm in 2002, it has now turned into a reason he contemplated exiting the business last year.
    "It worked well at first," Kohlman said. "Even the bank said it was a good idea. After 2009, everything changed and it's been pretty much downhill since. There have been times when it hasn't been as bad but for the most part it's been pretty much negative numbers."
    Commodity prices have been steadily increasing since the beginning of the year with corn seeing a high this year of $7.32 while soybeans have topped the market in 2021 so far at $16.43 according to macrotrends.net. It has caused additional strain on dairy farmers purchasing feed.
    "I think this caught everyone off guard," said Spence Driver, dairy nutritionist for Ag Partners in Goodhue, Minnesota. "It's not just protein or corn sources. Other ingredients in the diet are running high, too. Those you can't contract or you're a lot more limited with contracting … certain ingredients they are just having to pay more for. So, most people's feed prices are going up."
    Driver attributed the increased prices to a variety of market dynamics: yields in South America, a dry spring in the United States, an increasing export market and a shortened inventory supply on top of plant shutdowns due to the novel coronavirus pandemic, and now a driver shortage for trucking.
    "It's like everything else. Look at all the markets and supply chains, imports, exports. Everything is just messed up right now and it's been that way for not quite a year," Driver said. "It's throwing a monkey wrench into everything."
    Aaron Yurczyk has felt the pinch in his checkbook lately. The young dairyman has been purchasing all his feed since he began dairying in 2016 on a rented farm near Holdingford, Minnesota.
    "I always talk to my nutritionist to find the cheapest substitute on anything we can, but everything seems to run with the price of beans or corn, protein level wise or energy wise, so changing is kind of difficult," said Yurczyk, who milks 50 cows.
    Last year, Yurczyk paid an average of $3.50 per bushel of corn. The last few loads he has purchased this year, Yurczyk paid close to $8 per bushel. To cut down the amount of ground corn he's using in his ration, Yurczyk bought a liquid feed tank and started feeding a liquid corn substitute.
    "It's cheaper than buying ground corn right now and it helps keep the feed together so the cows can't sort it as much," Yurczyk said. "They eat it better."
    Driver said ongoing conversations with a dairy's nutritionist like what Yurczyk has been doing are critical at times like these. He likes to explain to his producers each item in the ration and what it is doing for the cows. If a farm does need to switch a ration because of cost, Driver likes to go through the scenarios of how that might affect production or reproduction.
    "Then they can make that decision – whether they need to cut costs and take that risk or they don't want to take it out because they know what might happen," Driver said. "I think everybody's running on pretty narrow margins when it comes from feed costs."
    For Kohlman, there were not too many more changes he could make to his ration before he started giving up production. He had already cut out haylage in 2014. Since then, Kohlman has relied on three local dairies for corn silage and has dry hay trucked in from western states.
    "Corn silage is a much more consistent ration than haylage," Kohlman said. "With haylage, you're always changing the diet with first, second and third crops so bringing in hay from out West is really consistent."
    Although Kohlman has not changed his herd's ration recently, he did switch from three-times-a-day milking to two times a day.
    "That helped a lot," he said."
    Initially, the cows dropped 7 pounds of milk per cow per day; however, within a month, they had gained 5 pounds back. Plus, Kohlman said the conception and pregnancy rates have improved.
    "The cows seemed happier," Kohlman said. "They had time to rest. On 3X when you went in the barn, somebody's always there moving cows here and there, and they never get a chance for total peace and quiet. Now cows have about six hours where no one bothers them. It's so peaceful."
    Driver said he likes to talk with his producers about examining management strategies like this that affect the cost of production or the ration. He suggested looking at feed shrink, which can cost a farm up to $0.50 per hundredweight due to rain, wind, spoilage or other factors.
    "Focus on the big dollar items," Driver said. "Shrink can tend to be huge on farms if they're not paying attention."
    Grouping strategies can also be a way to try to lower feed cost.
    "Most people from a convenience standpoint feed a one-group TMR," Driver said. "A lot of the ingredients in the diet are most beneficial in the highest producing cows … with a two-group system, later lactation cows wouldn't get all the goodies so they can be cut out of the diet and save feed costs that way."
    Looking at other stressors such as overcrowding or culling are also areas to examine, Driver said.
    "Those are the type of things I have conversations with my client," he said. "Let's not just focus on the diet. Let's focus on the overall management strategy of the dairy."
    Going forward, Yurczyk hopes to buy his own farm with enough acres to grow his own corn for silage. Kohlman is uncertain of what his future holds. While the government payments helped him survive last year, he is not sure he can sustain the current feed prices. At 51 years old, Kohlman is not ready to retire, but does not have another generation that wants to take over.
    "Even with the price of land, I think the trend is you can still make money growing your own crops than buying feed," Kohlman said. "But for me now to go out and pay $10,000 per acre for land in my area, I don't have the collateral or equity to do it. I've got myself in a catch-22."
    Until Kohlman makes a decision about his future or Yurczyk finds a farm, the two dairymen will continue to weather the markets and evaluate their farm to best sustain the high feed prices.


---