June 14, 2021 at 2:03 p.m.
More cheese, please
Houston County ADA works with restaurant to offer free slices on burgers in June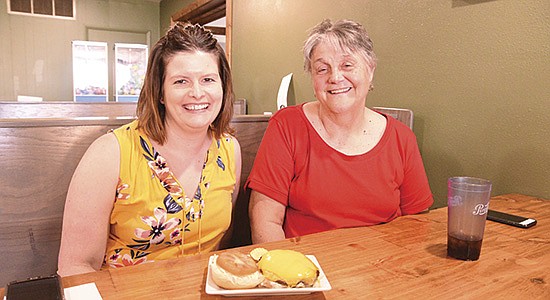 ---
    CALEDONIA, Minn. – Summertime and burgers go hand-in-hand. The Houston County American Dairy Association wanted to give local people a chance to upgrade their burger when visiting a local restaurant.
    As a promotion for National Dairy Month in June, the organization worked with Elsie's Bar and Grill in Caledonia to pay to add a slice of cheese to any burger or cheeseburger free of charge.
[[In-content Ad]]

    "It's a great promotion for cheese," Karyl Diersen said. "We like to do anything to get more dairy to the consumer."
    Diersen is a Houston County ADA board member and a dairy farmer who milks 150 cows on her family's dairy near Caledonia. This is the first year the board has done a promotion like this.
    "We're piloting it this year," Diersen said. "At first, we thought we would do one in all four major towns in the county. Then we thought we don't want it too complicated, and we don't know how expensive it's going to be. This could be a big thing."
    The idea came from a dairy farmer in a neighboring county and from Midwest Dairy's partnership with Pizza Ranch.
    "We have to work to do a promotion like it because we have no Pizza Ranch in our county or the two neighboring counties," said Hope Turner, another Houston County ADA board member.
    Elsie's Bar and Grill seemed like the most logical choice for the dairy group's plan.  
    "Our board meets here for meetings a lot, and she has a good business," Turner said. "We know it's going to be a promotion that is used because she's open a lot and has a good crowd here. Plus, she's very community minded."
    When board members approached Elsie Babler about the idea, the restaurant owner did not hesitate to participate.
    "I thought it was a great promotion," Babler said. "We always like to help with the community, and farmers are a big part of our lives. We all need them to stay farming."
    Babler thought it was such a good idea, she added an upgrade of her own. During June, the restaurant is offering free extra cheese on pizza and omelets.  
    As of June 3, many customers had already taken advantage of the extra cheese promotion.
    "I think everyone likes to have a part in trying to help other people," Babler said.
    Cheese on burgers is not the only promotion the Houston County ADA board is doing during June. This will be the second year the group has a cowbell scavenger hunt in four of the towns in the county.
    "We started it last year because of COVID-19," Turner said. "People were looking for stuff to do. Last year it was really popular."
    The ADA posts one clue each day on its Facebook page five days in a row. People use the clues to find the cowbell hidden in the specified town. One town is featured each week of June. The finder of the cowbell in each city wins a cooler full of dairy products.
    Other ways the ADA is sharing about dairy is through its Facebook page. County dairy royalty are featured in videos making dairy-filled recipes such as taco dip and banana yogurt muffins. Royalty is also visiting farmers markets and nursing homes along with assisting with on-farm visits for daycares. For Caledonia's Founder's Day, the ADA has teamed up with the bakery, which is making donut cones. They will be filled with soft serve ice cream provided by the dairy group.
    Since the start of the novel coronavirus pandemic, the Houston County ADA has taken part in the Milk Matters promotion, which helps organizations get milk and dairy products into food shelves. Along with paying for the products given to the food shelves each week, the Houston County ADA was able to purchase a refrigerator for the food shelf in Houston.
    "It was huge for them," Diersen said. "We wanted to get them the free milk like the rest in the county, but they didn't have any place to put the milk. Now they do."
    Regardless of the type of promotion, Diersen and Turner said people in the county are supportive and appreciative.
    "There is a lot of hometown feel in our county," Turner said. "People know dairy farming is important for the economy and everything else."
---