June 14, 2021 at 1:56 p.m.
Devin-Acres to host Sheboygan County Breakfast on the Farm
Family to celebrate June Dairy Month with farm tours, cheese carving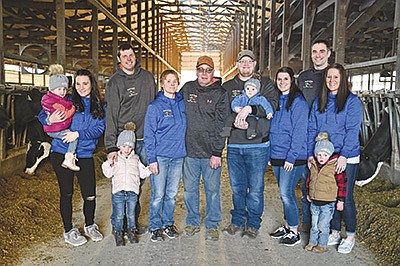 ---
    ELKHART LAKE, Wis. – People of all ages looking for a fun day on the farm will not want to miss the Sheboygan County Breakfast on the Farm June 19. The breakfast will be hosted at Devin-Acres, the farm of the Kevin and Deb Kirsch family, from 7 a.m. to noon. From a hearty meal and farm tours to countless activities for kids, this breakfast is sure to satisfy every appetite.
    Often the pinnacle of June Dairy Month celebrations, breakfasts on the farm are a popular promotion that are back on the schedule this year and better than ever.
    "It is neat to see people getting back out and doing stuff," Deb said. "It's good to get things back to normal, and I'm glad we are able to show people our farm. Hopefully, they learn something they can take back with them."
    The Kirsches milk 200 cows and farm 700 acres near Elkhart Lake. Farming with their daughters, Stacey Knoener, Jessica Wolfert and Kendra Horst, Kevin and Deb also have two full-time people on staff – Josh Knoener, the farm's mechanic, and Lucas Herrmann, who handles feeding, bedding and barn equipment maintenance. Stacey works on the farm full time, sharing herdsman responsibilities with Deb, while also milking and providing calf care. Jessica and Kendra have full-time jobs off the farm but help on weekends. The Kirsches also employ several part-time high school and college students.
    Kevin and Deb are the fifth generation on the farm purchased by Kevin's great-great-grandfather in 1872. Kevin and Deb moved onto the farm in 1990 and purchased it from Kevin's parents, Charles and Connie, in 1996.
    When the Kirsch family hosted Breakfast on the Farm in 2011, nearly 3,000 people showed up. The event is expected to draw a crowd of a similar size or larger this year.
    "We're hoping for decent weather to accommodate on-farm parking," Deb said.
    Weather permitting, tables will be set up outside to allow for outdoor dining, and free T-shirts will be given to the first 100 kids ages 10 and under. The carving of a 40-pound block of cheese will provide guests with a masterpiece to gaze at as well as tasty leftovers to consume.
    Sheboygan County's Breakfast on the Farm will also feature an all-you-can-eat breakfast, farm tours, educational stations, a kids' pedal tractor pull, pony rides and appearances by Alice in Dairyland and Sheboygan County Fairest of the Fair, among more.   
    Attendees will get a glimpse of the Kirsch farm and have the opportunity to see cows and calves up close. The tour will include explanations of the technologies used on the farm, such as a robotic feed pusher and Cow Manager system for monitoring rumination and activity.
    The Kirsches milk twice a day in a double-6 flat-barn parlor. Cows and heifers are housed in sand-bedded freestall barns, and calves on milk are located in outdoor hutches. Cows average 95 to 100 pounds of milk per day, and family has received quality awards from Land O'Lakes for the past 17 years.
    Kevin and Deb enjoy having visitors on their farm, making the decision to host their county's breakfast an easy one. Seeing the breakfast as an opportunity to educate and connect farmers and consumers through an authentic dairy experience, the Kirsch family is happy to open up their farm to the public.
    "We like to teach kids about agriculture," Kevin said. "It feels good when they learn something – even the kids who work for us. We used to do kindergarten tours for the local school, and many of the parents came along too. Our tours focused on the little ones, but the parents ask a lot of questions, and we were educating them as well. So many people don't have access to farms anymore."
     Whether a private farm tour or a public breakfast on the farm event, the Kirsches have one objective in mind.
    "Our goal is to teach people what dairy farming is all about," Kevin said.
---
Today's Events
CATEGORY
oct 4, 2023 @ 9:00am
CATEGORY
oct 4, 2023 @ 12:00pm