February 1, 2021 at 2:20 a.m.
New calf facility on par with farm's progress path
Daane Dairy replaces hoop barn for improved youngstock care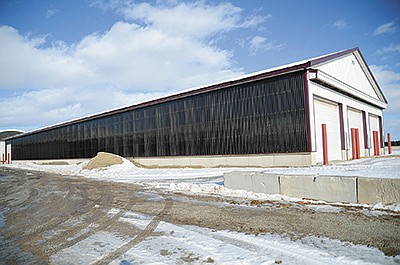 ---
BRANDON, Wis. – When the Daanes started running out of room for calves, building a new barn for the farm's youngest animals became a necessity. Offering plenty of space, the cleaner and drier structure replaced the hoop barn where calves previously resided. Improved living conditions have brought more comfort to calves and their caretakers. For this family of progressive dairymen, the new facility has proven to be the perfect building for raising calves.
[[In-content Ad]]

Three generations of Daanes farm together near Brandon, milking 630 cows and farming 1,300 acres. Ron Daane considers himself fortunate to be farming with three of his nine adult children, as well as a son-in-law and grandson. Ron's sons, Dusty and Clay, and his daughter, DeeDee VanHise, work alongside their father at Daane Dairy along with DeeDee's husband, Ryan, and their son, Collin.  
"I couldn't have asked for a better bunch of kids to work with," Ron said. "Dusty, Clay and DeeDee get along like clockwork. Ryan and Collin are an instrumental part of this farm too. I'm truly blessed." 
Dusty is in charge of crops and maintenance; Clay is the herdsman and financial guy; DeeDee is Clay's assistant and does all the breeding, takes care of calves and handles payroll and other human resource items while also sharing bookwork duties with Clay. Ryan is Dusty's right-hand man and does most of the feeding while Collin hauls the farm's milk and helps Dusty wherever needed. Ron is the farm's general manager.
The farm has been growing since 1998 when Ron and his wife, Helene, and Dusty and his wife, Missy, purchased the current site and built a new dairy after Ron and Helene suffered a barn fire in 1996 at their farm near Waupun.
"After the fire, we milked our cows on the farm Dusty owned," Ron said. "Together, we were milking 150 cows in a 32-stall barn. We did a lot of switching." 
Ron and Dusty formed an LLC Oct. 1, 1997. They were milking a little over 200 cows when they moved to the new farm near Brandon. Anticipating future expansion, the Daanes built a double-12 parlor with capacity to milk up to 700 cows three times a day. A couple years after moving in, they added 100 more cows and built a dry cow barn. 
In 2010, DeeDee and Clay joined the LLC. The following year, the family built another freestall barn, increasing the herd to its current size and also put in a manure pit and composter. In 2017, the Daanes built a new shop/shed and also hosted Fond du Lac County's Breakfast on the Farm. 
The farm's most recent addition occurred in 2018 when the Daanes built a new calf barn. 
Calves moved into the bright and spacious building that October when construction on the 44-foot by 154-foot barn was complete.  
"We needed a bigger, more modern facility," DeeDee said.  
Similar to a greenhouse-style building, the old calf barn housed 60 to 70 calves in single crates, whereas the new barn has room for 100 animals. Calves start in individual pens, and after two weeks, are housed in groups of five in a 10-by-10 pen. There are 20 pens total with 10 on each side of the barn, which features a simple system for shifting from individual to group housing. 
"There are five crates in each pen, and we just pull out the panels and group the calves together in the same spot," Ron said. "We don't have to move animals. They stay in the same larger pen the whole time they're here."
Conveniences like automatic waterers give calves access to clean, fresh water while reducing labor for the Daanes.
"In the old barn, we had to manually feed water," DeeDee said. "But in the new barn, watering is automated. Calves can eat and drink more, and the water doesn't freeze. They're growing good in here." 
The tunnel-ventilated barn has seven fans on the north end and a 2-foot curtain opening on the opposite end that can be adjusted as the temperature changes. 
"It's a more controlled environment than what we had before," Ron said. "There's better airflow in this barn."
The barn keeps out the elements, which the Daanes appreciate. 
"The best thing is we don't get snow or rain in our new barn like we did in our old calf barn," DeeDee said. "Everything stays dry and clean. It's a better environment for calves and people."  
Clay agreed.
"The barn's layout and design also make it easier to clean and maintain," Clay said. 
Calves are weaned at 8 weeks and sent to a custom heifer raiser between 8 and 9 weeks old – a practice the Daanes have done ever since building their new dairy. Calves are fed pasteurized milk through a nipple feeding system, which is delivered to each pen by a Milk Taxi. 
"When we switched from milk replacer to pasteurized milk 10 years ago, we saw a big difference in calf health and growth," Ron said. 
Over time, Daane Dairy has seen many improvements and updates, as the Daanes are always on the lookout for ways to better their operation.  
"Two things that really improved this farm were switching from mats to compost bedding and changing our feed storage from bags to piles," Ron said. "Bedding with compost was a big improvement in cow comfort, and going from bags to piles improved our feed and made a big difference in our components. The bags chewed up the feed. With piles, we could better regulate length of cut." 
The Daanes do their field work and manure hauling.
"We bought a drag hose system with our neighbor last year, and now we spread as much manure as we can with that," Dusty said. "It's been really beneficial."
Focused on improvement versus growth, the Daane family is set up for success using facilities and technologies designed to boost efficiency and productivity.
---
Today's Events
CATEGORY
sep 27, 2023 @ 12:00pm
CATEGORY
sep 27, 2023 @ 12:00pm