August 30, 2021 at 12:26 p.m.
WW Homestead Dairy celebrates 10 years in business
Partnership of two farm families finds success in retail market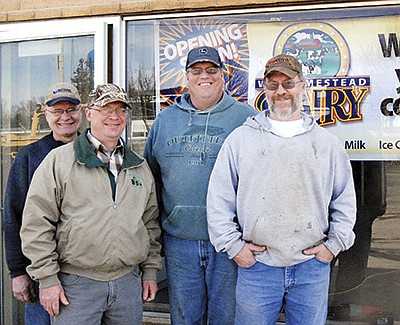 ---
    WAUKON, Iowa – When the Weighner and Walleser families from Waukon began their journey into processing milk from their farms, they were told it would not be easy or cheap, but it would be worth doing.
    As they mark the 10th anniversary of WW Homestead Dairy's launch, all three predictions have come true but in ways unique to their business.
    "It's definitely a bit different than we thought," Tom Weighner said. "Some products we thought would be vital are more minor; some things we didn't think would be big turned out to be huge. It's taken more people than I thought. I knew regulations and insurance would be a headache, and they are."
    After 10 years, WW Homestead Dairy is in 30-plus grocery stores, 40 convenient stores, four colleges and several other schools, and plenty of restaurants. Their market stretches from Wisconsin to Iowa and Illinois.
    "But it's good,"  Weighner said. "We've built a brand that's putting out a quality product that's recognized throughout the tri-state area. When we first started out, we knew we had a great product. The difference is that now, other people have had it, and they want it."
    They own three trucks for delivery and are continuing to grow sales at their local storefront in Waukon.
    The creamery began by selling non-homogenized milk and cheese curds. By the end of the first year, butter and ice cream were added. Another year later saw the addition of block cheddars followed by cottage cheese and frozen breaded curds.
    Today, there are 13 curd flavors and eight types of cheddar in their lineup along with countless ice cream varieties. The creamery building itself has had additions and upgrades.
    One thing that has not changed is family involvement from both the Weighners and Wallesers. When they envisioned the business, they knew family members were interested in farming, and the creamery allowed for that while avoiding milking more cows at the two families' dairies.  
    Weighner's role is marketing, but he can also be found flipping or making curds, driving a delivery truck or making hay at the farm. Weighner's wife, Angie, and daughters, Liz Murphy and Anna Becker, work full time at the creamery; Murphy is a veterinarian who does the creamery's food safety implementation while also running a part-time house call animal clinic. A third daughter, Abby Weighner, helps with WW Homestead part time while also working as a registered nurse.
    Weighner's daughter and son-in-law, Stephanie and Marshall Iverson, run the Weighner dairy. Becker and her husband, Cullen Becker, also help on the farm.
    On the Walleser side, Tom Walleser runs the farm with sons, Tanner and Trent. Walleser's wife, Janet, is a teacher, and they also have two daughters, Kelsey and Molly, who are employed elsewhere.    
    Weighner said having a creamery is helpful to the families' bottom lines because it provides a more stable milk price, even though some of the milk is sold to a cooperative.
    "But it's a lot like dairy farming in general," Weighner said. "You're working on a small margin. Just like on a dairy farm, efficiency is the key. All the little things you do are just vital to the bottom line. And if you think regulations on the dairy farm are tough, they're even tougher at a creamery."
    Going from dairy farming to marketing was a challenge for Weighner.
    "I just went out and started doing it," Weighner said. "That was a big change; it's nothing like dairy farming."
    Securing a market and having a plan are two things Weighner advises to dairy farm families considering taking on processing. That includes having an agreement with an entity that will take any farm milk not processed by the family.  
    While the Weighners and Wallesers have such an agreement in place with a cooperative, it did not cover any additional milk when sales fell as the coronavirus pandemic hit in 2020. The two families milk 300 cows.
    "COVID was a challenge we didn't need," Weighner said.
    To manage the difficulty, WW Homestead expanded online marketing, shipping tons of cheese curds, cheddar cheese and butter throughout the Upper Midwest.
    "Our online sales went up tenfold," Weighner said. "Since then, those sales have settled out but remain a more important part of the business."
    The creamery also built up its inventory of block cheese, frozen curds and butter during that time, all of which they have now exhausted.
    Weighner said he would like to change two things about WW Homestead Dairy. First, he wishes the company's retail outlet could be on the outskirts of a larger population center than Waukon.
    That would help accomplish his second wish – relying less on transportation for delivery.
    "Waukon is a town of 4,000," Weighner said. "If we had 40,000 or 400,000, that would be great. Instead, we have refrigerated trucks and drivers."
    They have kicked around opening another store somewhere near more people but have so far decided against it.
    Meanwhile, they take pride in the awards their products have won, including three at the 2021 Iowa State Fair. They also highly value the enthusiasm of their community and customers, and the knowledge that people often drive three hours just to come to their local store.
    It has been a good 10 years, but Weighner is looking ahead.
    "I hope it's there for the next generation," he said.
---