April 12, 2021 at 2:28 p.m.
Wisconsin Junior Holstein creates new way to celebrate members
Kronberg, Broege take home association's top youth honors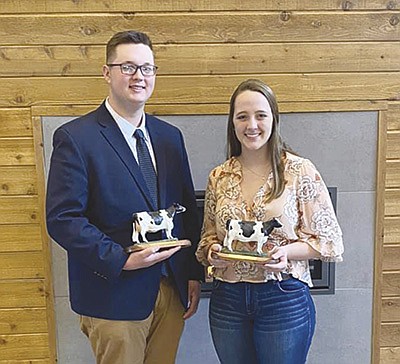 ---
    Nothing has looked normal for Wisconsin Junior Holstein members during the last year, including the cancellation of their annual convention which traditionally takes place in early January. Instead of a state-wide gathering, juniors from each district were invited to attend district activity days last month. Traditional contests were held and awards and recognition were passed out.
    The association's top junior honors, the designation of Wisconsin Holstein Boy and Wisconsin Holstein Girl, went to Ben Kronberg of Milton, Wisconsin, and Jenna Broege of Janesville, Wisconsin.
    Kronberg, 20, is the son of Todd and Becky Kronberg and is a junior at the University of Wisconsin-Madison studying agricultural business management. He hopes to work in agricultural sales.
    "I was really happy to hear my name announced," Kronberg said. "It is a great culmination of my junior career. I have grown up looking up to past Holstein Boys and have always thought they are a well-respected group of guys. It is very humbling to now be a part of that group, and I hope that I can be that role model for a younger kid as well."
    The relationships he has developed, both with other juniors and with adults, have been the hallmark of his years as a junior, Kronberg said.
    "Everything comes down to the relationships I have been able to build," Kronberg said. "Those relationships have been born of the activities I have been involved in. The activities and experiences are great, but the relationships are the best."
    Kronberg said he has enjoyed participating in dairy bowl and dairy jeopardy.
    "Dairy bowl has been the most fun," Kronberg said. "The team I have grown up being a part of is a great group, and it has been fun to grow as a team. We spend a lot of time together, practicing and waiting between rounds. We are able to bounce ideas off each other, and compare and contrast what our thoughts on different things have been."
    Kronberg counts Kevin Jorgenson as a friend who he said has influenced his junior career and driven him to push himself to reach his full potential.
    "Kevin has really helped me to build those meaningful relationships with others in the industry," Kronberg said. "Those are connections that will continue to benefit me far into the future."
    Kronberg plans to find ways to transition to an active adult membership and hopes to help others in his age group find ways to become active.
    "I feel like there is a disconnect at the age I am reaching," Kronberg said. "You graduate from the junior association, but then you don't really become involved in the adult organization until you have kids. I would like to help find ways to bridge that gap and draw people my age to the adult association."
    Kronberg plans to volunteer with the Rock County Holstein Association and at the state level, particularly to help the youth programs.
    "I hope to maybe help coach dairy bowl or at the very least volunteer to work as a scorekeeper or judge for the state contests," Kronberg said.
    The best advice Kronberg can offer younger members is to remain optimistic.
    "Stay positive and try to be involved in as many things as you can," Kronberg said. "Those events are designed to build juniors. It might seem overwhelming to a young kid, but take it all in and run with it; let yourself grow and develop as a leader in the industry."
    Broege, 19, is the daughter of Phyllis Broege and the late Steve Broege. The freshman at the University of Wisconsin-Madison is majoring in dairy science and working toward a certificate in mathematics. She is involved in the Association of Women in Agriculture, Collegiate Farm Bureau, the National Agri-Marketing Association and Badger Dairy Club.
    "It was pretty surreal," Broege said. "I've always watched older people win that award. It was very amazing to receive it."
    Broege has enjoyed her time as a junior member because of the connections and friendships she has made throughout the years.
    "When I was younger, I really did not enjoy attending the junior convention because I didn't know anyone," Broege said. "As I attended more events with my sisters, I eventually made more friends; the more friends I had, the more I enjoyed the different activities. The more I enjoyed those, the more involved I became."
    Broege said she has enjoyed showring competition, dairy judging, dairy bowl and competing in dairy jeopardy, and has been fortunate to have many people to look to as mentors and role models.
    "I have always done everything with my two older sisters, Kristen and Jenna; I am lucky to follow in their footsteps," Broege said.
    While her sisters ignited her passion for the registered Holstein cow, Broege credits fellow Holstein enthusiast Nick Sarbacker for helping fan those flames.
    "Nick has taught me about different sides of the industry, especially marketing and merchandising," Broege said.
    Broege completed the first year of her two-year-term on the Junior Activities Committee and is looking forward to tackling her second year.
    "This last year was very different for the JAC because of COVID-19," she said. "We really had to think outside of the box to communicate with and engage our membership statewide."
    Broege does not expect her love of the Holstein breed or her involvement in the association to wane as her junior career ends.
    "I am looking forward to really starting again from the bottom as a new adult member in the Wisconsin Holstein Association," Broege said. "There are so many avenues to be involved and so many new connections to make."
    In particular, Broege looks forward to working with the junior association as an adult member and hopes to impact youth as she has been impacted.
    "I would tell younger members to trust the process," Broege said. "It is daunting at the beginning, but if they would talk to the members they might look up to, they would probably be surprised that they were young and apprehensive once too."
    In addition to Kronberg and Broege, Wisconsin Distinguished Junior Member awards were presented to Elise Bleck, Plymouth; Eliza Endres, Waunakee; Josh Gerbitz, Milton; Courtney Glenna, Amery; Hannah Hockerman, Westfield; Cole Mahlkuch, Juda; Ainsley Noble, Lancaster; and Marissa Osberg, Monroe.
     Younger Distinguished Junior Member awards were presented to Ashley Brandel, Lake Mills; Ava Endres, Waunakee; Cathryn and Christopher Gunst, Pine River; Elena Jarvey, Sobieski; Austin Meyer, Chilton; Emily Stumpf, Appleton; Garrett Ulness, Valders; and Madison Wiese, Wrightstown.
    Juniors selected to receive the 12 and Under Member Recognition award included Justin and Katie Brandel, Lake Mills; Kayla Buttles, Lancaster; Makenna Gilbertson, Hollandale; Vivian Lichty, Beaver Dam; Leah Mess, Rosendale; Ella Raatz, Colby; Miles Rickert, Van Dyne; Cameron and Dylan Ryan, Fond du Lac; Braelyn and Payton Sarbacker, Verona; and Madison Sarbacker, Whitewater.
    The selection of Zoe Ertel of Plymouth as the 2021 Wisconsin Holstein Princess and Emily Stumpf of Appleton as the princess attendant were also announced.
---