October 12, 2020 at 3:28 p.m.
Three times the responsibility
Seykora leads high school football, wrestling, baseball teams as captain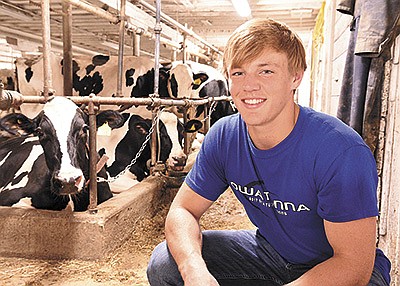 ---
    OWATONNA, Minn. – When it comes to excelling in sports and academics, Matt Seykora said he keeps his strategy simple – do his best every day.
    "I try to do the right thing at all times," said the 17-year-old Owatonna High School senior.
    Not only has this led to him being a standout three-sport athlete in football, wrestling and baseball for the Owatonna Huskies, Matt has been voted by his teammates to lead all three teams as a captain during his final year, all while maintaining a 4.0 GPA in the classroom.
    "I'm very grateful and honored my teammates think of me like that," Matt said. "It ups the responsibility for me, and means I have to set the example for others to follow."
    Responsibility has been a normal part of Matt's life, helping his parents, Brian and Mary Beth, on the family's 50-cow dairy farm near Owatonna. Matt feeds and milks cows among other chores as needed. He said skills learned on the farm have translated well to those needed on the field, mat or diamond.
    "You need the mindset of working hard, being there in the moment and getting done what needs to be done," Matt said. "I'm a hard worker. It's what my parents have instilled in me – to work hard at all times."
    While Brian said this is what he and Mary Beth, who works off the farm as a teacher, have taught their son, Matt has done the work.
    "When he felt he needed to improve, he just kept working on it," Brian said. "I think he will admit he tries to be a perfectionist at times. It's just a drive that comes from within."
    Despite a busy farming schedule, the Seykoras have always made time for sports.
    "My dad loves baseball so he's taught me ever since I could walk," Matt said. "He would get done with chores, and then he would come play baseball with me."
    Because of this, baseball is the sport Matt loves the most and has had several offers to play Division II baseball in college next year. So, when the spring high school baseball season was canceled earlier this year due to the pandemic, Matt had a lot of emotions.
    "I was devastated and stayed in my room for a couple days," said Matt, who plays shortstop with occasional appearances on the pitcher's mound.
    Not only was his devastation due to his love of the game, it was also because of the missed opportunity for college scouts to see him play. In high school baseball, junior year is typically the year when college baseball scouts look for most of their recruits.
    Hoping for other opportunities to play during the summer, Matt practiced every day and kept visiting the batting cage. He also had more time to help on the dairy.
    "His out was coming here to work in the barn," Brian said. "I saw a lot of him. Spring fieldwork went smooth. I had a lot more help with him and his younger brother (Mitchell) here more often. But, I would have rather seen them in school first and on the ball diamond second."
    Fortunately, Matt had the chance to play this summer in a league organized by his coach to recreate the spring season and give scouts the opportunity to see the students play. He also played in a fall baseball league after learning the Minnesota State High School League postponed the football season to spring.
    "I was really disappointed because it's my senior year, I'm a captain and the whole school is behind you," Matt said. "It's one of the things you look forward to. You can't change it so I tried to find things I could do."
    This included continuing to lift weights using a set he received as a Christmas gift last year, a timely present since the weight room has not been open for most of the year.  
    "I've been putting in extra work and trying to get as many kids to do that too," Matt said, a three-year varsity football player who is a linebacker and fullback.     
    The fall baseball league finished just in time for Matt to start practicing football again after the MSHSL rescinded its decision. Although this year's football season will be shortened, with the first game Oct. 9, Matt is happy to be back with his team, especially as a leader.
    "I show them the hard work and what dedication does," Matt said. "I treat everyone the same and get them to try to unite as one team and go for one goal."
    This year, that goal is to be state champions. Last year, the team made it to the quarter finals in the state tournament where they lost to St. Thomas Academy. The previous two years, the Huskies claimed the championship trophy in their class.
    Following the football season, Matt will wrestle in the 170-pound weight class in his fourth varsity season.
    "In wrestling, we work individually for a team goal and push each other," Matt said.
    In addition to sports and school, Matt is also involved in the 4-H dairy project and volunteers when opportunities arise.
    When it comes to leadership, Matt said the coaches have helped too.
    "They have really pounded the team goals into our head that the team is greater than us individually," Matt said.
    Of course, Matt has his own leadership style.
    "I'm not the most vocal. I show by example," he said. "But if someone is dogging it, I let them know."
    It is all Matt's way of trying to do his best every day and helping others do the same on the three sports teams he leads as captain.

---