October 12, 2020 at 2:51 p.m.
Quality feed a cornerstone for Jenson
First-time forage superbowl exhibitor earns corn silage, baleage awards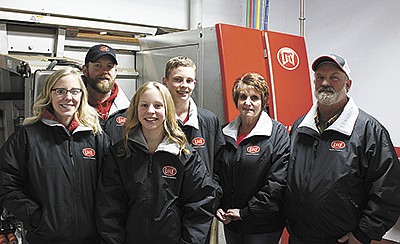 ---
    ELK MOUND, Wis. – Some might call it beginner's luck.
    After all, taking top honors in one division and reserve champion honors in a second division during one's first year competing in the World Forage Analysis Superbowl seems unlikely. But Michael Jenson Jr. simply sees it as validation that what he is growing for his cows is the best possible forages.
    "This was our first entry into the contest," Jenson said. "We decided to enter after our Byron Seed (representative) kept telling us that we had the quality of feed that would compete well."
    During a virtual awards presentation Sept. 30, Jenson Family Farms learned their entry was named the champion of the standard corn silage division, and that they received the second-place award in the baleage division.
    Jenson, who is the fifth generation of his family on the farm that was established in 1857, operates Jenson Family Farms near Elk Mounds with his wife, Jenny, and children, Michael III, 17, and Kylee, 14, and his parents, Michael Sr. and Phyllis. The Jensons milk 150 cows with two Lely robots that were installed in 2017.
    The Jensons farm around 250 acres of mostly sandy loam ground in eastern Dunn County.
    "Quality forage is the cornerstone of the dairy diet," Jenson said. "It is very difficult to maintain herd health, reproductive efficiency and quality milk production without great forage."
    That high quality of forage is what has helped the Jensons obtain a herd average of 90 pounds of energy corrected milk per day and a pregnancy rate of 30% throughout their herd.
    Winning the corn silage division for 2020 with silage grown during the 2019 growing season was no easy feat, especially given the difficult weather conditions that plagued Wisconsin dairy farmers throughout last year.
    "Though it was a challenging year to grow and harvest, we actually got lucky and hit a small window of dry weather at the optimal harvest time," Jenson said of his 2019 crop.
    The winning corn silage was KingFisher 43c40 variety, a 93-day relative maturity that Jenson said he planted the second week of June 2019 due to the wet weather. Jenson said the silage was made in early October 2019 and yielded just over 18 tons per acre. The silage tested around 62% NDFd-30 and 3,740 pounds of milk per ton.
    "In addition to the variety, I give credit to my soil fertility program," Jenson said. "I used composted dairy manure from our farm along with some mineral enhancement from Diamond t Ag."
    Hiring a custom operator to chop and bag their corn silage is an important management practice for Jenson, allowing for the crop to be put up quickly from start to finish which helps to maintain consistent quality.
    Jenson said he has not yet sampled this year's corn silage, but noted it was planted and harvested earlier than last year's crop.
    "The yield was roughly the same, perhaps with a bit more grain this year, but it looked just as great as last year's crop," Jenson said.
    In addition to their winning corn silage, the Jensons can rest assured knowing their cows had top-of-the-line baleage in their rations as well, a fact validated by their second-place finish in that division.
    "I found out that the baleage actually tied for first in the category, but since I had won the corn silage division, the top spot was given to the other entry as a tie-breaker," Jenson said.
    Ideally Jenson likes to make baleage that runs in the range of 50% to 60% moisture. The baleage submitted for entry in the contest hit at around 52% moisture, 275 relative feed quality and the milk per ton was around 3,800 pounds.
    "Our baleage started out as Byron Seed YieldMax, which is a combination of sorghum-Sudangrass, Italian ryegrass and some clover," Jenson said. "This was planted in June of 2019, and we harvested two crops of primarily sorghum-Sudangrass in 2019. As the weather turns colder, the Italian ryegrass and clover take over."
    Jenson said in their climate in northwest Wisconsin, Italian ryegrass typically suffers winterkill but survived last winter, allowing for a final cutting in May.
    As the 2020 harvest season wraps up, Jenson will be able to spend the long Wisconsin winter contemplating defending his titles in next year's contest.
---