November 30, 2020 at 7:06 p.m.
A barn to stand up to Minnesota winters
Ziegler rebuilds freestall after excessive snow in 2019 causes roof to weaken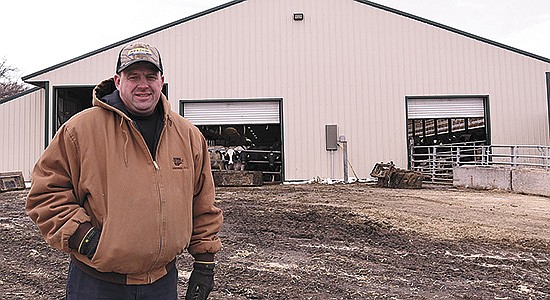 ---
    GREEN ISLE, Minn. – As winter arrives in Minnesota, Brent Ziegler feels confident his cows will be safe and comfortable in his dairy's freestall barn, even if there are snowstorms with high winds and several inches of snow.
    "It is nice knowing the building is structurally sound," Ziegler said. "We don't have to worry about it."
[[In-content Ad]]

    This will be the second winter Ziegler will go through with a newly-built freestall barn on his 280-cow dairy near Green Isle. His previous facility buckled March 10, 2019 from the weight of the snow on the roof after multiple winter storms.
    "It didn't fall down," Ziegler said. "We caught it just in time. But we had to completely rebuild the building because it was structurally unsound. We were lucky. We didn't lose any cows."
    The dimensions of the 62-by-171 barn stayed the same as did the stalls, bedding, headlocks, bunk and waterers, because many of them had been replaced in the past five years; however, Ziegler was able to rebuild the structure around it.
    "The posts were cut off right at the bottom of the truss, and they rebuilt it," Ziegler said. "The posts are original, but everything up (above) is brand new."
    The process allowed Ziegler to better accommodate his herd with upgrades, including the ventilation and lighting.
    "It ventilates very well," he said. "And it's really nice and bright."
    The barn now has a raised-ridge vent that runs the length of the roof. Ziegler also replaced 36 3-foot fans blowing the length of the barn from east to west with 11 60-inch fans that blow across the 3-row barn.
    "Before we switched the direction of the fans, they burned a lot of electricity," Ziegler.
    Now during the peak summer months when all the fans run at the same time, the electricity bill has dropped $1,000 per month due to the efficiency of the new ventilation system.
    New light-emitting diode lights, replacing older lights, have also been energy efficient.
    "The LED lights run so much cheaper," Ziegler said.  
    Other improvements included new curtains and doors.
    The biggest upgrade is the strength of the new roof.
    "All truss manufacturers and builders changed their specs awhile back and the trusses are built so much stronger than what they were before," Ziegler said.
    Now the barn has trusses every 4 feet with 2-by-8 boards rather than the previous facility, which had trusses every 8 feet with 2-by-4 and 2-by-6 boards.
    While deciding what to do with the barn after finding buckling trusses, Ziegler was given the option to put up bracing instead of a new structure.
    "I didn't feel that would last another winter," he said. "We chose to do it right. It's nice knowing it's built strong."  
    He did not want to have to worry like he did the evening of March 10 when he drove past his freestall barn and noticed the roof sagging.
    "I called my brother and dad, and the three of us went at putting bracing up because we had lumber from another project already on the farm," Ziegler said. "If we wouldn't have caught it, it would have collapsed by morning because of how significantly weakened the trusses were."
    Putting in extra t-braces gave Ziegler extra time to figure out a more permanent solution to the problem.
    "It was creaking and moaning, and it was a little scary being in there," he said. "But we were very fortunate compared to a lot of other people who had buildings collapse."
    Within the two weeks prior to Ziegler finding his barn roof compromised, many other dairy farmers throughout the upper Midwest were dealing with building damage from a relentless winter season of tundra-like cold temperatures and heavy amounts of snowfall.
    "It was heavy, wet snow that just couldn't go away," Ziegler said. "It had been building up for every snowstorm."
    The freestall barn built in 1996 could not handle the weight any longer. Ziegler saw it had popped gusset plates out of place on 20 of the 22 trusses.
    "It was dumb luck we found it," Ziegler said. "I didn't think it was that bad because it had rained. But it was a bad placement of the snow drift. And it was an older building."
    During the six-week rebuild, cows were locked into one side of the barn while construction crews worked on the new facility. Although milk production decreased due to additional stress because of the changes, having a new barn at the end was worth it.  
    "We took the opportunity to make it better, and we have a very nice building now," Ziegler said. "And we're all more aware of snow now."
    Ziegler now has the peace of mind he needs during the coldest and snowiest months of the year.
---