November 14, 2020 at 7:05 p.m.
Pandemic shifts processing market
MDA offers grant to help small businesses deal with increased demand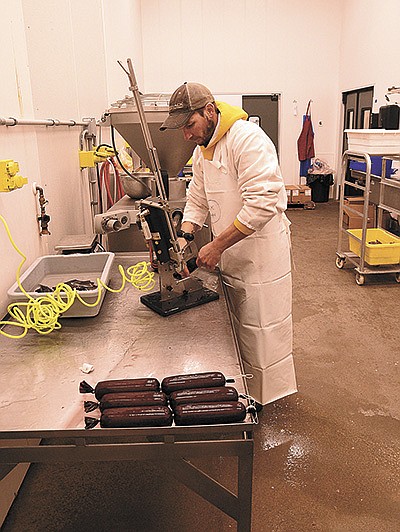 ---
    DOVER, Minn. – While the novel coronavirus has had devastating impacts on many people's lives, there has been a silver lining for many small animal processors.  
    "We were comfortable with where we were at and then in February it blew out of the water," said Eric Klein, who owns Dover Processing in Dover. "There were so many calls. We were trying to take down names as fast as we could. We couldn't even schedule them. We took down names and had to call them later. We had 10 pages of names and filled all slots through 2021."
    Klein was not alone. Small processors were the ones to pick up the slack when many large-scale plants shuttered for several weeks due to the pandemic. To help keep up with the sudden influx of new customers for these businesses, the Minnesota Department of Agriculture offered a Livestock Processing Rapid Response Mini-Grant.
    "It gave us a leg up to help us when we were trying to keep up with everything," Klein said. "It helped with however we could to increase capacity, store more product and handle all the ground beef."
    The MDA is offering a second round of the grant this fall to Minnesota meat, poultry, egg and milk processors and livestock producers who need increased storage capacity for processed products. The grant is for up to $5,000 for each applicant. Previous applicants may not apply, unless their award was less than $5,000. In that case, applicants may apply for the difference between their previous award and $5,000.
    Bonnie Johnson and her family were thankful for the grant after they had a dramatic increase in their business earlier this year.
    "It exploded in a matter of a week where the phone rang off the hook," Johnson said. "I put a message on the answering machine and had to not answer the phone because we needed to cut."
    Johnson and her husband, Josh, along with her father-in-law, Wade, own Riverside Meats and Processing in Swanville. They used the money from the MDA for items they could use immediately – trays, carts, storage containers and a larger mixer grinder.
    "This (grinder) is twice as big and twice as fast as the one we had so we can do a lot more in a day than we could before," Johnson said. "It's very helpful."
    They are currently adding onto their freezer, although the project is not covered by a grant.
    "It had been something we had been talking about for a long time," Johnson said. "With the increased business, the money was there to do it and it was a need. … We were running out of room in our freezer. That made the decision for us."
    Although dairy makes up the majority of the animals they process, the Johnsons' new business primarily comes from people with hogs. Typically, the spring and summer is slow for butchering hogs. During their usual busy hog season, the Johnsons will process 20 each week. Throughout the summer months this year, the Johnsons scrambled to schedule 40 hogs each week.
    "We were doing the max we could handle," Johnson said. "We really had to improvise what we could fit and how to make it work."
    The Kleins were and still are processing at full capacity. Although they process animals for outside customers, the Kleins built their facility a few years ago in order to accommodate their own farm's needs.
    "We were growing our meat business," Klein said. "We always had to go to three processors every week just to get in and get everything done. We decided to bring it all together and build this."
    It has been a steady and manageable stream of customers until the massive influx after this spring's market upheaval.
    Along with the challenge of keeping up with their packed weekly processing schedule, the Kleins hope their labor force of 12 employees can handle it.
    "You hold your breath that everyone stays healthy," Klein said. "To have someone out sick is a logistical nightmare."
    While the circumstances have made logistics more stressful, Klein thinks the consumer shift to more local processing is a good thing.
    "Farmers are finally able to set their price and get what they need, and the consumers get what they want," he said. "It's a win-win for both. They're getting a quality product and know the farmer. That's the big thing – consumers get to know their farmer and what they do."
    Klein and other processors will continue to work toward meeting the demand suddenly presented by the pandemic.
    "There's not enough processing around to offset the big plants, but we're sure trying," Klein said.
---