September 5, 2017 at 3:32 p.m.
Nuytten family enjoys organic dairying
Former sheep and beef farmer makes the switch to organic dairying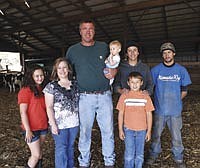 ---
HAZEL RUN, Minn. - Most dairy farmers enter the business after growing up on a dairy farm. Jerry Nuytten, however, got into organic dairying after growing up on a farm that featured sheep and beef cattle.
"I started driving tractor when I was 7 years old," said Jerry. "By the time I was 9, I was taking care of Dad's 25 ewes in addition to doing everything else I could to help around the farm."
Jerry's father had dairied, but had quit milking before Jerry was born. Even so, the dairy farming spark somehow found a place in Jerry's heart.
"When I was in ninth grade we had to write an essay about what we wanted to be when we grew up," said Jerry. "The first thing on my list was dairy farmer."
But several decades passed before Jerry's dairying dream became a reality.
"A year after I graduated from high school, I attended a sheep shearing school in Pipestone," said Jerry. "I enjoyed it, so I started shearing sheep to earn extra money. Some years I sheared as many as 20,000 head."
When he was 26, Jerry attended a sheep shearing school in Wisconsin where he met a shearer who hailed from New Zealand.
"We became friends, so I went to New Zealand for six weeks to help him shear," said Jerry. "I got to see some interesting things there. They are very big on grazing in New Zealand and I came back with some new insights about grazing practices. This helped me rethink the grazing system for the 150 ewes I owned at that time."
In the mid-1990s, Jerry's father decided to quit raising beef cattle.
"I didn't want the facilities to sit empty, so I started raising dairy steers," said Jerry. "After I had done that for a few years, I switched to dairy heifers. I would buy them at about 300 pounds and sell them later as bred heifers."
Jerry's father passed away in 1998 and Jerry took over the operation. Shortly thereafter, Jerry was introduced to the concept of organic farming.
"I liked the idea of getting more dollars per bushel without paying homage to the big chemical companies," he said.
By 2003, Jerry had switched his entire 650 acre operation over to organic farming. That's when he decided it was time to make the plunge into organic dairying.
"I saw selling milk as the best way to add value to organic crops," he said.
In the fall of 2002, Jerry bred a group of heifers. His goal was to have a new milking parlor built by the time they calved the following spring.
"On the first day of March, 2003, we began to thaw dirt in the barn where we were going to build the parlor," said Jerry. "The first calves began to arrive ten days later."
Jerry had decided to put up a double-12 swing parlor. Before constructing the parlor, he had sought and got advice from numerous sources, including a hired man who had extensive dairy experience.
"We had to milk with a portable vacuum pump until we got the parlor up and running," said Jerry. "By the end of the summer of 2003, we were milking 65 head. In November of that year, the first organic milk truck came to pick up our milk."
While there have been many changes to the Nuytten operation, an exceptionally momentous change took place in June three years ago.
"We first met on eHarmony," said Amber, Jerry's wife. "I grew up in the Gillette, Wyoming area on a cattle ranch that my great-grandfather homesteaded. And I always kept a small flock of sheep as an FFA project."
Jerry and Amber's first date would prove quite memorable.
"I got here and the bachelor farmer said he hadn't had time to get groceries," said Amber. "We were going to go to the store when the phone rang. It was Jerry's hired man who said that the cows had gotten out. It was nearly dark, but we took off in the pickup to find the cows. Jerry stopped and went out on foot to look for them, telling me to stay in the pickup. So there I sat, a Wyoming girl all alone on a Minnesota gravel road and the only person I knew had walked off into the darkness. It was quite an adventure, and we never did make it to the grocery store. I wondered what I had gotten myself into."
Their second date, which took place the following evening, was also very memorable.
"For our second date, I decided to help Jerry milk cows," said Amber, "And while we were milking I got splattered by a big gob of cow manure!"
Despite these somewhat inauspicious beginnings, the couple fell in love and were wed the following April. The Nuyttens have three children: Grace (11), Matthew (8), and Faith, (10 ½ months).
"I helped out down in the barn as much as I could until Faith came along," said Amber. "I home school our kids and keep books for the farm, so I'm pretty busy. But I would like to spend more time out with the cows."
"It's hard to manage the labor and balance family time with work time," said Jerry. "We've had good luck getting trainees from overseas to work on the farm. We're now using Global Cow to help us find trainees."
The Nuyttens calve seasonally. About 60 percent of their calves are born in the fall and about 40 percent are born in the spring.
"We would like to get that closer to 50-50," said Jerry. "We're constantly trying to improve things, including using more artificial insemination. We really don't like the risks that come with having bulls around."
With almost a decade of organic dairying under their belts, Jerry and Amber are still eager to learn new ways to enhance their operation.
"We're always seeking the advice of experts regarding such things as our feed ration and breeding and grazing," said Jerry. "We like to go to different field days to see how others do things."
"Field days also enable us to meet new people and learn how they dealt with problems they may have had with their operations," said Amber.
The boy who grew up raising and shearing sheep still keeps a few ewes around.
"My grandpa raised sheep and my dad raised sheep," said Jerry. "I couldn't find it in me to get rid of all of them. Besides, it's good for the kids to have a few chores!"
---