September 5, 2017 at 3:32 p.m.
Isaacson invents pickup bed ladder, fishing chair
Dairy equipment installer is award winning inventor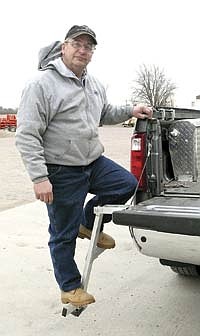 ---
LAFAYETTE, Minn.-There are three things you should know about Myron Isaacson. First, he doesn't like to watch television. Second, when he needs something, he makes it. And third, he enjoys a challenge.
Put those factors together, and it's no wonder Isaacson has made a mark for himself in the world of inventions. Isaacson, the owner of Isaacson Sales & Service in Lafayette, Minn., has taken two inventions to the Minnesota Inventors Congress and has won two medals, one silver and one gold.
Whenever he can get away from work in the winter, Isaacson likes to go spearing. That led to his first invention, My Dream Chair.
"I either had to sit on a pail or a bench and lean over...I got a sore back," Isaacson said about why he made the chair. "I wanted a chair to sit in all day long and not have a sore back or neck. This chair lets me sit right over the hole and lean forward."
The aluminum chair provides chest, chin, and arm rests that can also be turned around for use as a regular chair. Isaacson thought of everything as the chair has another feature - it can be used as a commode with biodegradable bags! The chair folds down in a matter of seconds to almost nothing and comes with an optional carrying bag.
Isaacson's My Dream Chair went through several designs, each patented before reaching the version that's now being sold. His first model incorporated a tackle box with rockers underneath, but took too much room. The second included rockers that folded up, but was too cumbersome and too scary for a person with a bigger belly who might sit back too far.
Of the final version, Isaacson said, "It's even comfortable enough to take a nap without falling into the lake ... I should know."
Even though this winter hasn't started out as a great one for ice fishing or spearing, the chairs are selling well.
"I sell at least two a day," Myron's wife, Linda, said recently,
To date, nearly 100 chairs have been sold, including a few that have been adapted for hunters. For those, Myron added a turntable base and an adjustable gun rest made of PVC pipe.
My Dream Chair captured one of five silver medallions awarded at the 2009 Minnesota Inventors Congress.
Isaacson returned to the Inventors Congress with his second invention in 2012. This time, his My Dream Steps captured one of five gold medallions awarded. The pickup bed ladder is an easy way to access the bed of a pickup.
"Everybody's been wanting something like this forever," Isaacson said. "Like the chair, I made it for myself, but it worked out so well that I'm making it for others."
This wasn't just something Isaacson wanted, but needed.
"My new pickup is 38-and-a-half inches tall to get into the end gate and I've got such short legs," Isaacson said. "Ford makes one that comes out the back, but you can't pull it out when you're pulling a trailer. Mine comes out the side so it's accessible."
With the idea in mind, Isaacson bought a used tailgate, as Linda wouldn't let him experiment on the new one. He cut into the end gate and made a chamber that slides into it.
"Before I had it done, I changed it, then changed it again," Isaacson said. "It's finalized now. It should fit on all tailgates."
The first steps were of steel, but were too heavy. Isaacson then used part aluminum.
"I made sure everything was done right before we marketed them," Myron said. "Now they're all aluminum with some reinforcements for strength."
My Dream Steps comes in two versions, the original that's built into the tailgate and a second style that bolts on top. In both cases, a single arm pulls out, with two arms that fold down. The steps are made closer together for pickups that aren't as tall as Isaacson's.
Working nights and weekends, Isaacson and part-time employee, Ken Lindberg, install the majority of the steps themselves, but one set has been sold to Virginia where the purchaser will go to a body shop for installation.
For the internal mount version, they cut into the side of the tailgate, slide the chamber in, and fasten it on both ends of the tailgate. That's it. To use the steps, all one has to do is pull the arm out (with an attached loop), and fold the steps down. The steps are made to support about 300 pounds, with a cost in the $300 to $350 range.
"I'm looking forward to talking to some of the truck companies about the idea," Isaacson said.
Isaacson patented both of his inventions before taking them to the Inventors Congress. He was fortunate that a patent attorney lived at Sleepy Eye at the time and helped him a lot. He also got good information from meetings at the Inventors Congress.
"There's no step like the one I have and no chair like the one I have, yet they're so simple," Isaacson said of his inventions.
To learn more about Isaacson's creations, go to www.mydreamchair.com or www.mydreamsteps.com
Though he's not sure what he'll come up with next, Myron is thinking about a portable aluminum fish house that folds up.
"It's just upstairs for now," Myron said, pointing to his head.
Myron and Linda have owned and operated Isaacson Sales & Service since 1980. The business sells and installs feed and manure handling equipment and does concrete work in Minnesota, Wisconsin, Iowa, North and South Dakota. Their son, Chris, is now a part owner. Two additional full-time and one part-time employee round out the work force.
"We have such good help that both Myron and I can be gone and they can do it," Linda said of the employees.
That gives Myron more time for spearing ... or inventing.
---