September 5, 2017 at 3:32 p.m.
Idaho dairy focuses on efficiency
Stewarts work on technology advancements on smaller-than-average dairy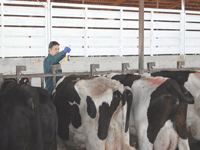 ---
NAMPA, Idaho - Third generation dairy producer, Joe Stewart, lives by his family's dairying motto, "What you put into your operation is what you get out of it."

"We're meticulous about managing items on our dairy," he said.

Stewart manages his family's 750-cow dairy in Nampa, Idaho, a city of 80,000 people that is 20 miles south of Boise. His family also helps on the operation: his semi-retired dad, Jim, helps with management aspects, his mother, Marcella, does the bookkeeping and his younger brother, Jerry, is in charge of the field work and contracting forages.

In order to keep his dairy efficient, Stewart isn't afraid to participate in research, use unique dairying strategies or try to improve technology.

"In Idaho we're typically one of the lower paid areas in the country because at one point it was the least cost area to produce," he said. "But that's not the case anymore so we're trying to find ways to be more efficient."

The Stewart dairy started in the 1940s with a handful of cows and a few acres. Since that time, it has grown into a large business. Stewart took over the farm after returning home from Utah State University where he earned a degree in ag business.

The dairy is a closed herd that raises all replacements on the farm. Cows are milked three times a day in a double-20 parallel parlor and housed in sand bedded freestall barns. In the late 1990s, the parlor used milking equipment designed by Stewart's dad.

"My dad has always been involved in developments whether it be feed or technologies," Stewart said.

The family hired an engineer from Hewlett Packard to help with the design and to have it marketed, but the drop in milk prices at the time forced the Stewarts to abandon the project.

Taking after his father, Stewart jumped into research developments and advancements in agriculture. He started crossbreeding his primarily Holstein herd with Jerseys, Brown Swiss and, most recently, Norwegian Reds.

"Our goal with crossbreeding was not high volume," Stewart said. "We're looking for more efficiency. We've been happy with it so far."

Stewart also uses his dairy to test management software, helping with all aspects from trouble shooting to debugging.

"We're always interested in technology and how to make it work on a dairy regardless of the size," Stewart said.

Having a mid-sized herd helps them look for issues in the software that would happen to both larger herds and smaller herds.

Lately, the dairy has been testing feed trials and activity monitors for estrus detection.

"That's been a huge benefit for our breeding program," Stewart said.

Using the activity monitors, the herd has been able to achieve first service insemination rates up to 50 percent.

The feed trials have also been beneficial. At one point in time, the Stewarts pushed feed to their cows and were up to over 30,000 pounds for a rolling herd average. However, Stewart said they didn't like to push the cows as much and are now feeding more for rumen health and longevity, while still maintaining a RHA of 28,000 pounds.

"We've been able to monitor details and we're good about tracking all the info on an animal. That's where the technology helps," Stewart said about his herd's production success. "But we couldn't do it without good people - our 14 employees, our vet and nutritionist."

The current ration for the herd is a 60 percent forage diet with corn silage, alfalfa silage, a sugar beet pulp, dry hay and mineral mix. Nearly two-thirds of the Stewarts' forages are raised on their own 500 acres and other shared crop ground. The rest is contract grown. The hay and mineral mix is also purchased.

Stewart said the farm's location in Treasure Valley is good for crops, with a 120-day growing season and a dry climate with access to water for irrigating. The valley, which is at an elevation of 2,500 feet, receives about 11.5 inches of precipitation per year from snow fall and is surrounded by mountain ranges.

He also said Treasure Valley is a good dairy location with about 100,000 cows. At least two dairy supply dealers are within two miles and several other local dairy service independents.

But the Stewart dairy isn't the typical Idaho dairy anymore.

"At one point we were about the same as everyone else," Stewart said. "But in the last few years I haven't seen dairies built with less than 3,000-cows and many times they're bigger or have grown into multi-thousand-cow operations."

Managing a herd of 750 cows is the perfect size for the Stewarts.

"We're very hands-on and that's what's nice about the size we are," Stewart said. "We still want to have control of what we put into the dairy - genetics, nutrition and the day-to-day details."

Even though not the same type model as many other dairies in the state, their herd size and motto of efficiency and getting out what they put in works for the Stewarts.

"We really tune into accuracy."


---
Today's Events
CATEGORY
sep 27, 2023 @ 12:00pm
CATEGORY
sep 27, 2023 @ 12:00pm