September 5, 2017 at 3:32 p.m.
Got cows? Shamrock Farms has 10,000
Arizona operation supplies milk to Subway restaurants nationwide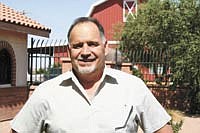 ---
STANFIELD, Ariz. - Got cows? Shamrock Farms does.
The Stanfield, Arizona, operation has 10,000 dairy cows - and all at one location in Pinal County. It's very likely among the top one percent of U.S. dairy farms when it comes to cow numbers at a single site, according to general manager and vice president Frank Boyce.
But there's far more to Shamrock Farms than sheer cow numbers and a large volume of milk produced. The farm is part of Shamrock Dairy. That's a nationwide company that markets bottled milk and several other dairy products.
One of Shamrock Dairy's most visible ventures is its link to Subway restaurants. The dairy provides the milk that's sold in more than 20,000 Subways across the United States.
Shamrock Farms traces its roots to 1922, when W.T. McClelland founded the business in Tucson, Ariz. He started with a small herd of Guernseys.
Now, 90 years later, Shamrock Farms is home to not just 10,000 cows, but two herds. The conventional herd averages 9,600 cows, with about 8,400 milked on any particular day.
There's also an organic managed herd of about 700 cows and heifers. There, the milking string averages 540. The organic herd was formed in 2007.
"It's challenging, when all eyes are on you all the time, because you're considered a corporate dairy," Boyce said. "It's a tough business. You've got to make sure you cross every 't' and dot every 'i' in the organic business."
The national organic rule requires that dairy cows be on pasture and get part of their dry matter intake from it. To that end, Shamrock Farms uses all of its 1,000 acres.
While the pasture season is winding down in much of the United States, it has only started at Shamrock Dairy, about 50 miles south of Phoenix. Boyce said, "Our pasture season is right now - October through April."
Since that part of Arizona is essentially desert, shade for the cattle is supremely important. Those on pasture have access to shade structures, and the conventional herd uses what Boyce calls "Saudi shades." The farm has four of these structures, each 1,640 feet long.
Under each metal-roofed shade are 400 pens, each holding 16 cows. The roofs provide 780,000 square feet of protection from the blistering sun.
Each shade structure has a three-foot-wide gap at the center, to let heat out. Each also has a 24-foot-wide feed lane bisecting it.
"Shade and cooling are essential here," Boyce said. He estimated that the farm has spent close to five million dollars on fans and misters.
June and July can bring daytime temperatures as high as 117 degrees Fahrenheit. But those are not the worst conditions.
Boyce said, "The most miserable time is August and September. We'll still be at 111 to 112 degrees, and we'll still have overnight lows in the low-to-mid-90s. And during those months we'll have humidity pushing 45 to 50 percent."
Even with shade, misters and fans, milk production still slips. Most of the year, without any bovine somatotropin (BST), the conventional herd averages about 74 pounds of milk per day, Boyce said. But during August and September, that drops to 60 pounds a day.
Instead of stall dividers, these shade buildings are equipped with self-locking stanchions. The dairy has 9,600 of these stanchions, or "holes," as Boyce calls them.
Shamrock Farms cows are fed a total mixed ration three times a day and are milked twice a day. For the conventional herd, milking takes place in a twin double-50 parlor. With offices and storage space included, the parlor area measures 98 by 490 feet.
Each of those parlors has four people milking and one fetching cows. Boyce said the setup can milk more than 900 cows an hour.
Shamrock Farms has two more milking parlors. The one for the organic herd is a double-25, which Boyce acknowledged was too big for the number of cows. Another milking parlor is a double-10 that's in the hospital barn.
On BST, Boyce said, "I don't think anybody uses it in Arizona at all right now."
Shamrock Farms opted against its use for a couple of reasons: Boyce did not want to have to defend its use of the product, and he figured that with the extra milk production, farmers' milk prices would weaken. "It's really eighth grade economics," Boyce said.
The dairy uses sexed semen regularly, but only on heifers and only during the cooler months, when the animals are under less heat stress. Several of the farm's 92 full-time employees work mainly as breeders. They can earn bonuses based on the conception rate.
Bonuses are $4 per pregnancy when there's a 70 percent conception rate, for example. Under the payment schedule, a breeder can earn a bonus of more than $1,000 in a month.
Shamrock Farms buys the great majority of its feed. Alfalfa might come from 150 miles away, but all the corn silage is grown within seven miles or so. Concentrates mainly originate in the Midwest. Commodity feeds used include rolled corn, barley, cottonseed, corn gluten, and bakery waste.
Currently, thanks in part to high feed prices, the farm's cost of production is higher than the price it gets for milk. Shamrock Farms was paid around $16 for milk this past summer, but Boyce said he expects milk prices to keep climbing farther into autumn, since futures markets are already expecting $21 per hundredweight.
On Boyce's list of future challenges for the farm are water, legislation, and waste/manure. The farm uses two twin-screen manure separators, two sand traps, five settling ponds, and one larger irrigation pond.
Area farmers who contract to sell crops to the dairy also agree to take some of the manure. Boyce said he is still waiting to see whether a digester to produce methane from the manure might one day pencil out.
Of course, for a dairy farm with 10,000 cows and in a desert, water is a constant concern. Boyce said the local water district keeps trimming the per-acre allocation. As a result, a farm might not crop all its land.
Shamrock Farms has its own 500,000-gallon water storage tank. It's fed by a well that's 1,610 feet deep. Some 1,800 gallons of water per minute is brought to the surface by a 400-horsepower pump.
"Every bit of water on this property gets reused," too, Boyce said. The average number of uses is five, including washing cow lanes and helping separate manure solids from the liquid portion.
A fun part of the farm is Roxie's Outdoor Adventure. Roxie is a cartoon cow that has become Shamrock Farms' mascot.
Some 10,000 people a year tour Shamrock Farms. They get to see cows being milked, watch a film that provides an overview of the operation and how milk goes from cow to grocery store.
Younger visitors get to play at Roxie's Outdoor Adventure. Kids can climb a 20-foot-tall milk bottle and slide out of a cottage cheese tub.
Shamrock Farms' tours are popular with the snowbirds. Boyce said, "A lot of Minnesota and Wisconsin people come here - people who winter here."
As for the Subway milk contract, Boyce said it opened up other markets, too.
"It got us to think on a national level, rather than on a regional level," he said. "If you're shipping milk to a Subway in New York, there's no reason you can't be in a pizza parlor next door."
A new item made from milk from Shamrock Farms is Rockin' Refuel. It's a postexercise drink that contains 20 grams of protein, plus carbohydrates, to help muscles recover. "I think that's going to be pretty big for us," Boyce said.
Boyce has been employed by Shamrock Dairy 32 years and has been affiliated with Shamrock Farms 21 of those years. He grew up in Phoenix but has come to enjoy farming.
He said, "This is what I love doing. The dairy business is really interesting. There are some good people in it."

---